Photos of the "British Edition" Ford P68.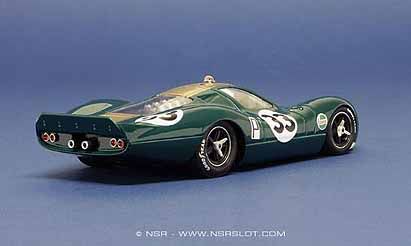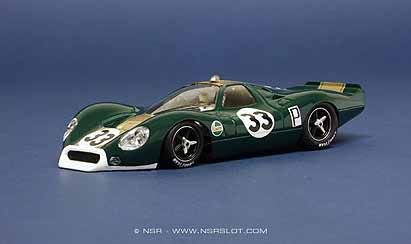 From NSR:
NSR is glad to announce his third classic car, the P68.
BODYSHELL:
The "Modellistic" attitude with high attention to details is an aspect which we consider to be fundamental and this has been fully adhered to, in fact the bodyshell is made in 2 separate part for better look.
Inside the cockpit there is a four pieces driver, the steering wheel, gear shift, motor and other small pieces .
The body is fixed to the chassis by way of two screws at the front and one screw at rear.
Body dimensions are 62.5 mm width, 142.5mm lenght, 28 mm high.
The wheelbase is 70.5mm and the distance from center of rear axle to center guide is 86.0mm.
The weight of the fully accessoried and painted bodyshell it is 18 g. whilst the weight of the RTR car it is 69 g.
DECORATION:
The first livery version of the NSR P68 reproduces the 1000Km Nurburgring 1968 version, red n.7.
Second livery will be "British limited edition", made for English fans but it will be on the market in all the World.
Third livery will be red n.9.
CHASSIS:
The main chassis is nylon made "flat" design of 1 to 1,5 mm. thickness for maximum grip when cornering whilst capable to withstand crashes.
Sidewinder motor support is held in position to main chassis by three screws (one in front and two at the side) which are only crossing it to screw into an independent ring. This allows the motor support to move independently from the chassis and in the desired amount (which can be set by simply unscrewing the screws from underneath).
The motor is of a sidewinder configuration with two degrees from the rear axle.
The chassis comes with a removable traction magnet, located just ahead of the motor; the neodymium magnet is round, 4mm high and 8mm diameter with two different mounting positions.
The guide is counter-sunk well inside the chassis to allow desired ground clearance by the use of thin spacers to be placed in between the guide itself and the chassis.
The one piece front axle can move vertically
Rear pillow block height, allows the gear to protrude only 1mm under the chassis level thus leaving still 1 mm. gear/track clearance.
PICK-UP GUIDE
The guide is similar to that of current offerings, but it is low-profile (only 1mm thickness); exclusive adjustable height using .005" , .010" or .020" new spacers, to cater for racing on all types of plastic tracks, as well as wooden tracks with raised, flush or recessed braid/copper tape to optimise the braids contact. The pivoting shaft is 8mm. high for a free vertical movement.
The brass connectors used to fix the wires to the guide are newly made, slightly bigger, chosen to guarantee a tough contact with our smallest thickness braids.
MECHANICAL
The components of NSR P68 are made up of the usual high-quality from NSR:
NSR3004 20K Shark motor, 20000rpm 164gr-cm
NSR4801 precision and very strong 49mm x 3/32" diameter axles
NSR5001 aluminium 16mm. diameter 'front - NO air system' 4/40 set screw front wheels,
NSR5002 aluminium 16 mm. diameter 'Air System' 4/40 set-screw rear wheels,
NSR5250 'No-friction' hard front rubbers 18.5 x 9mm specifically made for P68.
NSR5253 "Supergrip' rear softer rubbers, 20.5 x 10mm specifically made for P68.
NSR4803 Autolubricant & no-friction oilites
NSR6911 Extralight & no-friction 11t pinion
NSR6032 Extralight & no-friction 32t black gear 17.5mm
MOTOR
The motor for the NSR FORD MK IV is the Shark 20K, fully developed by triple World Champion Salvatore Noviello, made always by the same NSR philosophy: to realize high performance product without compromises!
Shark 20K motor has 20000 RPM at 12Volts with an excellent torque value of 164 gr/cm, an exceptional value, previously obtained only from "long can" and heavy motors.
The motor can is opened from both sides, it has cooling oval holes and the magnets are ceramics.
A famous Spanish magazine after a comparative test has described the NSR motor superior to any other motor challenge.
POLICY
'Ready to Run' is not enough!
NSR's objective is to make a Classic car using modern technology, so high tech 'Ready To Race'. It needed to be competitive straight out the box, without any fiddling or modifications required to make it perform properly and we believe that this third car has also achieved this target.
Our policy is to offer really a 'Ready To Win' car; we never like that people need to buy aluminium wheels to replace plastic wheels, soft rubbers to replace hard rubbers, or a motor to replace slow box stock motor…!
The NSR P68 is an innovative model with high tech components, highly performing on track still respecting the scale modellistic aspect.
The NSR P68 was created in the streamline of the Mosler GT project which has dominated in the GT top class either in National and International competitions since it was born in 2006.
In according with our NSR philosophy, we have worked to obtain the best performances without any compromise.
The NSR "Classic" model cars are without doubts the fastest in the world.
Manufacturing costs and artisan labor in Italy are however significantly higher than China or East Europe, but NSR is very proud of the fact that all the models are completely and entirely built in Italy, thus allowing NSR to have absolute control over quality and to demonstrate our Country capability.
All NSR P68 cars are assembled and tested exclusively into NSR Factory and only by NSR employers, so NSR can offer full warranty about final product.
Retail price will be in proportion to the quality of product.