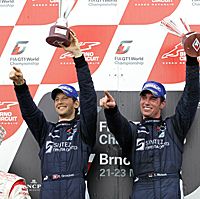 After Abu Dhabi, Great Britain and the Czech Republic, the FIA GT1 World Championship is heading to France. And more particularly the south of France, and the beautiful, distinctive Paul Ricard HTTT circuit, at Le Castellet. The glorious sight of the magnificient GT1 cars heading round the challenging circuit, encircled by blue and red stripes, should herald the start of the summer, and hopefully the sun will accompany the new World Championship throughout the weekend.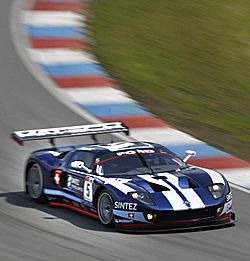 After three rounds, Matech Competition drivers Romain Grosjean and Thomas Mutsch lead the Drivers classifications after their Brno win, while Vitaphone Racing Team lead the Teams, their drivers Bartels and Bertolini being the only ones to have scored points in each race so far. But the Paul Ricard has a reputation as a Corvette circuit, so who will emerge victorious on Sunday ? There will be plenty of French interest, with Stéphane Sarrazin racing for Hexis AMR, Olivier Panis joining Matech Competition, and Christophe Bouchut returning to All Inkl.com Münnich Motorsport.
As well as two exciting one-hour FIA GT1 World Championship races, the Paul Ricard HTTT welcomes the FIA GT3 European Championship, which is moving into the second half of the 2010 season. Two weeks ago in Jarama, victory went to Team Rosberg's Audi R8 LMS and to the Need for Speed BMW Z4. But the Corvette teams and drivers are leading the points, after a dominant start to the season. Callaway's Hohenadel and Keilwitz lead by 31 points – but with 25 for a win, nothing is decided yet.
The full timetable will also include two races from the GT4 European Cup, and three from the exciting Lamborghini Blancpain Super Trofeo. The GT4 European Cup has raced in Silverstone and Spa so far this season, setting up a close battle between the Aston Martin GT4 cars of Paul Meijer (Rhesus Racing) and Michael Mallock (RJN Motorsport), who have shared this season's wins. As for the roar of the powerful Lamborghini cars, Peter Kox leads the points. The Dutch driver will have a busy weekend, as he also competes for Reiter in the FIA GT1 World Championship.
The weekend is more than just racing, with plenty of off-track entertainment for spectators, autograph sessions, grand prix simulators, flights over the track in a helicopter and plenty of beautiful GT cars on display, as well as a play area for children. Let the sun shine on !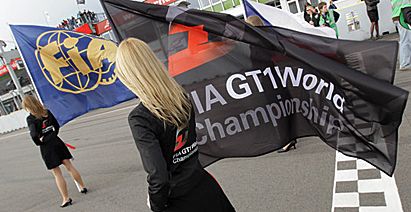 Photos and news used with permission from the FIA GT1 World Championship.