News from Jim Difalco:

Racers, I am accepting upgrade work at this time for all of our older "E" motion controller designs. Our brand new Genesis controller design uses a thin cable between the handle and the heatsink which now hangs on the track panel. This greatly reduces the weight in the handle for comfort as well as features our new E.S.P. - Extreme Stopping Power brake relay that gives superior full brake response for all 16D, Falcon, scale and Retro type racing. We can convert any 1/24, H.O. or 1/32 Difalco controller.
Attached above is a picture of a 1/24 Genesis controller. The Genesis 1/32 uses a super small heatsink, email for a picture.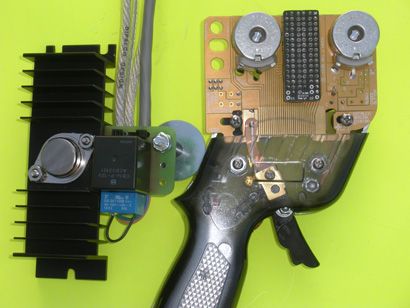 Below are listed several upgrade combinations and their pricing. Pricing below is assuming the controller is in good working condition. Any parts or labor needed to bring your controller to satisfactory running condition is extra (example: replacing trigger braid or damaged parts, moving mush and or choke switches,etc.). Prices are for factory controllers, module conversions on the metal Parma frame may be extra. I will notify you of any additional costs. All prices include ground shipping in the USA.
Payment: You can prepay with a money order or check but please note there may be added costs as described above. I also accept Paypal. Sales tax collected for repairs in Florida. Please write a short note with what you want done, your phone or cell number, shipping address and Paypal email if applicable.
Tune up: General tune-up gets everything adjusted, contacts cleaned and the controller checked out for potential problems and worn out parts. Minor parts will be replaced if needed. $35
Ball Bearings: Our special ball bearing kit removes all side trigger play, lightens up trigger response and keeps the wiper button firmly planted on the circuit board. The best money you will spend on your controller. $12 for controllers with our threaded trigger pin and $16 for 10 band models using the Parma trigger pin (my trigger pin uses a pivot nut with a nylon insert and the Parma uses a very small plain nut.) Prices for ball bearings are only good when you send in the controller for other work. If you want to add ball bearings yourself order my DD720 or DD721 (includes trigger pin) kit from your raceway.
HD30 Upgrade: Upgrade your 10 or 15 band controller to our new HD design with 30 bands for greatly improved response for Retro, scale and flat track racing. HD30 upgrade comes with a standard plug in network that is best for Falcon,16D and G12 motors. Other networks available for 1/32, H.O. up to G7 type racing. A tune up is included in this upgrade. $94 for 1/24 or 1/32. $99 for H.O.
Genesis Upgrade: We take your controller and replace from the handle down with our light weight cable design and modify the circuit board to add the E.S.P. relay option. New frame hardware is also install as needed, only your heatsink and transistor are reused. We give you a full power relay as well as all new wire and alligator clips. This upgrade can be done on your 10 or 15 band Pro plus, Fanatic or "E"motion HD30 controller. Tune up is included. $108 for 1/24, $115 for H.O., $108 for 1/32 (There is an extra $8 charge on very old 1/24 models using our "U" shaped or long heatsinks that do not fit our current hole pattern as the heatsink will be replaced.)
NOTE: the Genesis conversion is only for positive polarity at this time so any controller with dual polarity will loose that feature. The Genesis conversion can not be run on tracks without a brake post as used on some 1/32 and H.O. tracks.
Genesis and HD30 upgrade combination: Upgrade your 10 or 15 band controller to our Genesis design and the HD30 at the same time and save. $180 for 1/24, $187 for H.O., $180 for $1/32.
E.S.P. Brake Relay: I can add the E.S.P. feature to your standard controller even if you do not want to upgrade to the Genesis. Tune up included. $45
Fanatic Upgrade: We can upgrade your 15 band Pro plus or Fanatic controller by adding our wider range 20 ohm Fanatic pots. This will let you adjust the controller sensitivity to run 1/32 Ninco type cars, H.O., Retro up to a G7 motor. Tune up included. $48
Dual Brake Rheostats: We can add a second brake rheostat if you want to use your controller for 1/24 and 1/32/H.O. racing so you have the correct brake response. Inquire for pricing.
Mush button: $16 extra when other work is done.
1/24 Choke: We build custom wire relay chokes with a rotary selector and bypass switch. We replace the main wires with lighter weight wires and tune up the controller. $180 for adding our 8 position relay choke to your "E"motion controller. $15 for each additional choke setting up to 10 total positions. Inquire for pricing on adding a choke to a Genesis controller.
Handles: New cut and fitted Parma handles available for $14. Various colors. Painted handles available soon at additional cost.
Alligator clips and insulators: $3 for a new set of clips and $1.50 for new insulators.
If there is an upgrade or a feature you would like that is not listed please let me know.
Thanks for your time and the opportunity to keep your controller performing like new!