May 10, 2011 – Flying Lizard announced today the driver lineup for the 2011 24 Heures du Mans, June 11-12 at the Circuit de la Sarthe in Le Mans, France. Joerg Bergmeister (Germany), Patrick Long (USA) and Lucas Luhr (Germany) will team in the Flying Lizard No. 80 Porsche 911 GT3 RSR in the GTE Pro class*. Darren Law (USA), Seth Neiman (USA) and Spencer Pumpelly (USA) will pilot the Flying Lizard No. 81 Porsche in the GTE Am class.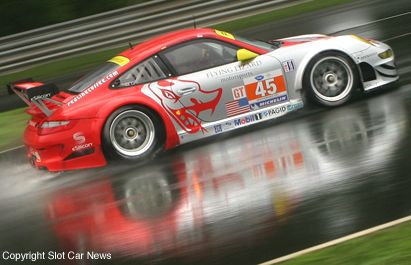 All six drivers have significant endurance racing experience. Bergmeister and Long are both Porsche factory drivers and drive the Flying Lizard No. 45 Porsche in the ALMS. Bergmeister has won the last three consecutive ALMS GT driver championships with Flying Lizard (2009-2011); two of those with Patrick Long (2010-2011). Bergmeister is five-time ALMS GT driver champion and Long has won the title three times.
Bergmeister has competed at Le Mans nine times; four years with Flying Lizard (2007- 2010). He won Le Mans in GT2 in 2004 (with Long) and has finished on the podium three times. Bergmeister has won the Rolex 24 at Daytona three times: GT in 2009, both GT and overall in 2003 and GT in 2002.
Long has competed at Le Mans seven times and has won the race twice in GT (2004 and 2007). Among other notable results, Long has won Daytona in 2009, Petit Le Mans three times (2005-2007) and Sebring in 2005.
This will be Luhr's first time driving with Flying Lizard. He has driven with Bergmeister and Long before: the trio won at Sebring in 2005 with Petersen White Lightning. Luhr has competed in six Le Mans races and has won in class twice: 2002 with The Racer's Group and 2003 with Alex Job Racing. Luhr has won in class at the 24 Hours of Nurburgring (2006), the Spa 24 Hours (2005), Petit Le Mans (2002), Daytona (2001) and five times at Sebring. Luhr has five ALMS championship titles: 2000, 2002, 2003, 2006 and 2008.
In the No. 81 Porsche, Law and Neiman will team up again for their third Le Mans together. The duo drives the No. 44 Flying Lizard Porsche in the ALMS. 2011 will be Neiman's seventh Le Mans entry; in 2005 he finished third in class in the Flying Lizard No. 80 (with Johannes van Overbeek and Lonnie Pechnik). Among his distance race results, Neiman has finished second in class twice at Daytona (2010 and 2004) and second at Sebring in 2008.
Law has competed twice at Le Mans, both years with Flying Lizard. In 2009, Law won overall at the 2009 Rolex 24 at Daytona; notable ALMS finishes include second at Sebring (with Neiman and Alex Davison) in 2008 in the No.44 and second in GT2 at Long Beach and Detroit (with Long) in 2007.
Pumpelly joins the No. 81 in his first race with Flying Lizard and his first 24 Heures du Mans. For the last five years he has competed in the Grand-Am Series with The Racer's Group. He has won twice in GT at the Rolex 24 at Daytona (2011 and 2006) and finished second and third in 2009 and 2008, respectively.
*Beginning in 2011, the newly named GT Endurance category comprises two classes: GTE Pro and GTE Am. For details, see www.lemans.org.

News used with permission from Flying Lizard Motorsports. Photo Copyright Slot Car News.