News from Sloting Plus: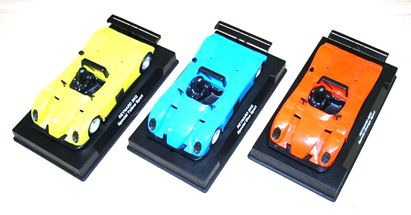 We present our new cars :
Reynard mono-coloured sport cars ( 4 photos joined ) are available where each car will be mounted with Lexan cockpit , new rubber low profil tyres in front, our M-S2 tyres in rear and a 29Z gear with the usual 11T pinion , all for improve performance out of box directly !
We join with each car all the parts shown in the photo (below) joined ( complete black ABS cockpit, white ABS driver, black inserts with brake disc integrated, screws, spacers, plastic stoppers and grub screws for front axle )
Take note mechanical parts are made in Spain and final assembling is hand made in Spain too ! We put 4 special screws SLPL 9280 for body and rear of motor pod fixation directly on the car and the front hook is painted in red as rear lights...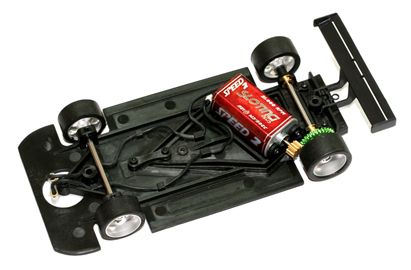 References are :
- SLPL 00106 Reynard 2KQ Sport Blue

- SLPL 00107 Reynard 2KQ Sport Orange
- SLPL 00108 Reynard 2KQ Sport Yellow

About new parts :
- SLPL 2265, 2270 are simply 65 and 70 mm axle !
- SLPL 1012 is Combi Plus bushing as 1010 and 1011 but with 29,9 mm length !
- SLPL 1004 is a new RRSS Victor's bearing where you have blue anodized aluminium instead teflon in SLPL 1000 ( 2 photos joined )
- SLPL 090102 is a complete HARD chassis for Reynard ( see one mounted with all mechanical parts in photo joined )
- SLPL 090106 is white axle support more rigid if you want for SLPL 00101 decorated Reynard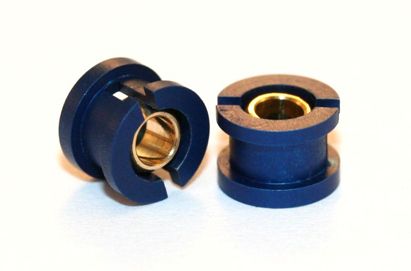 We present also our new system for brass and steel removable pinions ( 3 photos joined ) where 10Z will be with Gold body, 11Z with silver, 12Z with black and 13Z with purple in order to recognize them !
References are :
SLPL 60106510 Brass removable pinion Z10 x 6,5 mm mod 0.5
SLPL 60106511 Brass removable pinion Z11 x 6,5 mm mod 0.5
SLPL 60106512 Brass removable pinion Z12 x 6,5 mm mod 0.5
SLPL 60106713 Brass removable pinion Z13 x 6,7 mm mod 0.5
SLPL 60107512 Brass removable pinion Z12 x 7,5 mm mod 0.5
SLPL 60107513 Brass removable pinion Z13 x 7,5 mm mod 0.5

SLPL 60206510 Steel removable pinion Z10 x 6,5 mm mod 0.5
SLPL 60206511 Steel removable pinion Z11 x 6,5 mm mod 0.5
SLPL 60206512 Steel removable pinion Z12 x 6,5 mm mod 0.5
SLPL 60206713 Steel removable pinion Z13 x 6,7 mm mod 0.5
SLPL 60207512 Steel removable pinion Z12 x 7,5 mm mod 0.5
SLPL 60207513 Steel removable pinion Z13 x 7,5 mm mod 0.5

And for reminder, we propose four AW kits GT :
Each kit contain : 1 axle SLPL 2255, 1 AW gear SLPL 8030, 2 bearings SLPL 1003, 1 stopper SLPL 2400 and 2 wheels specifical to the kit ! ( 2 photos joined )
So, references are :
- SLPL 48016908 Kit GT AW 30Z Merkuro 16,9 mm
- SLPL 48117208 Kit GT AW 30Z Merkuro 17,2 mm
- SLPL 48216908 Kit GT AW 30Z Atlantis 16,9 mm
- SLPL 48317509 Kit GT AW 30Z Atlantis 17,5 mm