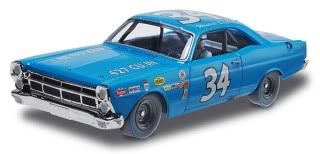 A number of slot cars shown for release this year by
Revell/Monogram at this link.

Wendell Scott's stock car shown above.

Wendell Scott began racing in 1947 and in 1959 he won 22 races at the local Richmond track and was track champion, also in 1959 he won the Virginia state sportsman title. In 1961 Wendell moved up to Grand National racing and in 1964 on a one-mile track in Florida he became the first and to date only African-American driver to win a Grand National event. In the 1967 season driving a Ford he finished 10th in the point standings, one of the four times he finished in the top ten at the end of a season. Scott was inducted into the International Motorsports Hall of Fame in 1999.