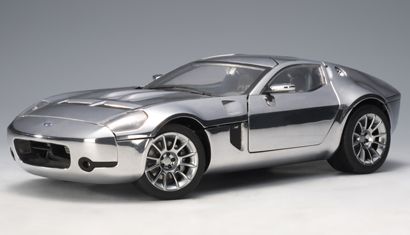 THE NEW FORD SHELBY GR-1 CONCEPT CAR
WITH A POLISHED ALUMINUM BODY
by AUTOart
We are entering into a new standard by launching it first!
The 1:18 scale Ford Shelby GR-1 concept car with a polished aluminum finish.
Our goal for producing this model is to achieve the same finish as of the actual concept car. Very few model makers have attempted to cast aluminum alloy and manually polish the body to achieve the glossy finish, they would normally chrome plate the zinc cast body to simulate the finish.
In order to replicate the polished aluminum finish of the real car, actual aluminum alloy must be used to cast the scale model body. The casting requires more than 130 minutes of highly skilled manual labor to polish the entire body, including the panels of the model, until the glossy finish is accomplished. The challenge is matching the contour between the main body the attached panels, (bumper, bonnets and doors), after polishing. Any slight over polishing of the bonnet and the door edges will make the connecting surface of the main body become uneven and thus would need to be scrapped. Even with skilled precision, the scrap rate is well over 50%. With labor cost on the rise in China, the cost of producing a polished aluminum body is 5 to 6 times the cost of a standard painted body, cast in zinc alloy.
Additionally, in order to simulate the real aluminum texture the finish is purposely not coated with any protective layer, the surface will eventually oxidize and the shininess will decrease gradually within a few months or a year, however, the glossy finish can be easily restored by simply hand buffing the model, using a metal polishing compound.
As with any precious sterling silverware, occasional maintenance is required in order to retain the original glossy finish.