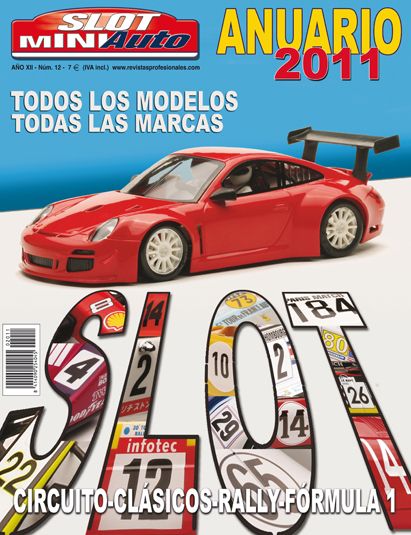 COMUNICADO DE PRENSA
ANUARIO SLOT MINIAUTO 2011
Un año más, y ya son doce, Slot MiniAuto presenta su edición del Anuario Slot. Un recopilatorio de todos los modelos de Slot, en escala 1:32 y 1:24 aparecidos a lo largo del año 2010. Con fotografías a color de todas las referencias de todos los fabricantes. Circuito, Clásicos, Rally-Raid, Monoplazas,… todas las categorías del slot en un solo volumen. El Anuario Slot MiniAuto se edita sólo en español y se distribuye en todo el mundo. Una herramienta exclusiva e imprescindible para todos los aficionados al slot.
Ya a la venta.
(Más información en www.revistasprofesionales.com)
PRESS RELEASE
SLOT MINIAUTO 2011 YEARBOOK
Once again, and it's twelve, Slot MiniAuto presents its edition of the Slot Car Yearbook. A compilation of all slot car models, in 1:32 and 1:24 scale, that have appeared during the year 2010. With full color pictures of all references to all manufacturers. Circuit, Classics, Rally-Raid, Singleseaters,… all the slot categories in your hand. Slot MiniAuto Yearbook is published only in Spanish and is distributed worldwide. A unique and indispensable tool for all slot enthusiasts.
Now on sale.
(Additional information at www.revistasprofesionales.com)