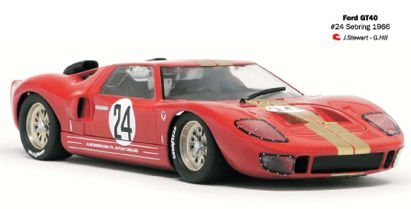 From Slot It:
CA18a, Ford GT40 - #24 Sebring 1966
Drivers: G.Hill, J.Stewart
The GT40 was a famous sport-prototype car created by Ford, from 1964 to 1969, to beat the Ferrari. It won four times consecutively the 24h of Le Mans, from 1966 to 1969.
In 1966, Alan Mann Racing engaged two lightweight version of Ford GT40. On these cars, the original steel semi-monocoque chassis was modified by using light alloy. Aluminium was used to build roof structures and doors; also body panels were in light alloy, instead of the original made of fibreglass. They were fitted with the 7 litres V8 engine also used on new MKIIs, and can be distinguished from other GT40s by the brake scoops perched on the rear decking.
The number 24 AM car raced the Sebring 12 Hours driven by Graham Hill and Jackie Stewart. It qualified third fastest, and Hill led the race for a while, but finally the car had to retire because of an engine trouble.
Another proof of this car potential was the Le Mans Test, where Jackie Stewart set the third fastest time; anyway, the car was not used in the race