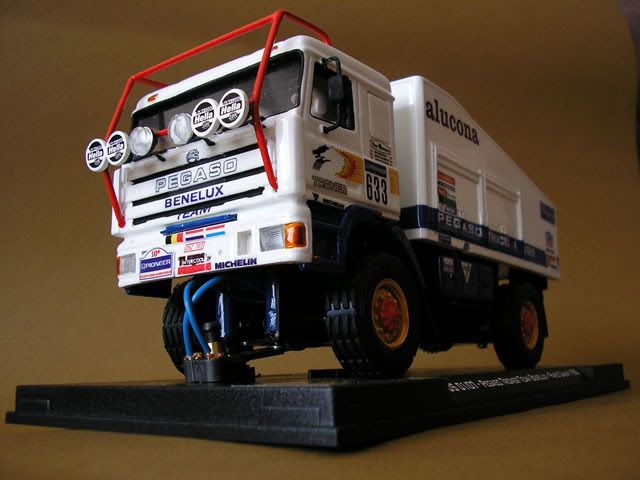 The series of the Pegaso Troner Team Benelux this limited and numbered to 250 units, list to roll and presented/displayed in rigid plastic box transparency.
Characteristic chassis:
Metallic chassis.
Reducing transmission by 4x4.
long Gui'a of fiber glass.
Suspension by shock absorbers.
Motor of open box type SCX.
Calibrated axes.
Aluminum rims.
Tires of truck.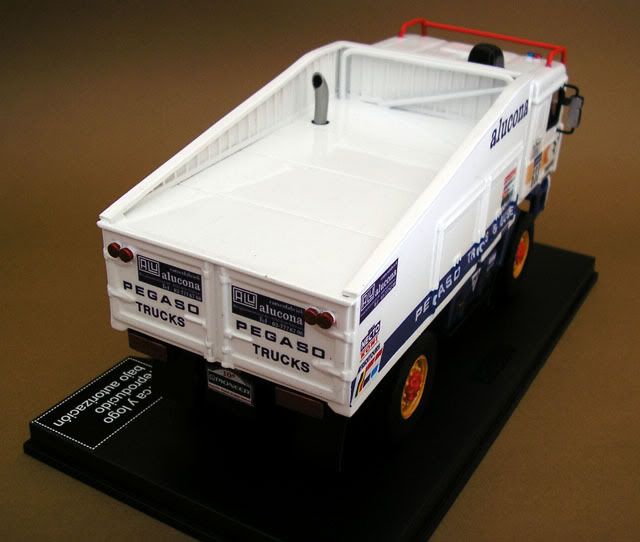 Characteristics body:
Reinforced resin body.
White metal accessories.
Painting and varnish of automotion of high resistance.
THIS REFERENCE DOES NOT HAVE PREDICTED ITS COMMERCIALIZATION IN KIT.
The price of this reference is of 350.
The expenses of manipulation and shipment will be on behalf of the buyer.
Orders a:
desertslot@gmail.com
A greeting
Desert Slot
www.desertslot.com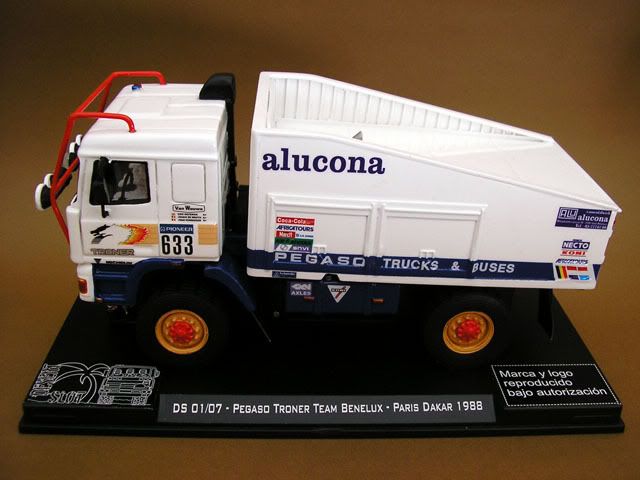 La serie del Pegaso Troner Team Benelux esta limitada y numerada a 250 unidades, lista para rodar y presentada en caja de plástico rígido transparente.
Características chasis:
Chasis metálico.
Transmisión por reductora 4x4.
Guía larga de fibra de vidrio.
Suspensión por amortiguadores.
Motor de caja abierta tipo SCX.
Ejes calibrados.
Llantas de aluminio.
Neumáticos de camión.
Características carrocería:
Carrocería reforzada de resina.
Accesorios en metal blanco.
Calcas al agua de gran calidad.
Pintura y barniz de automoción de alta resistencia.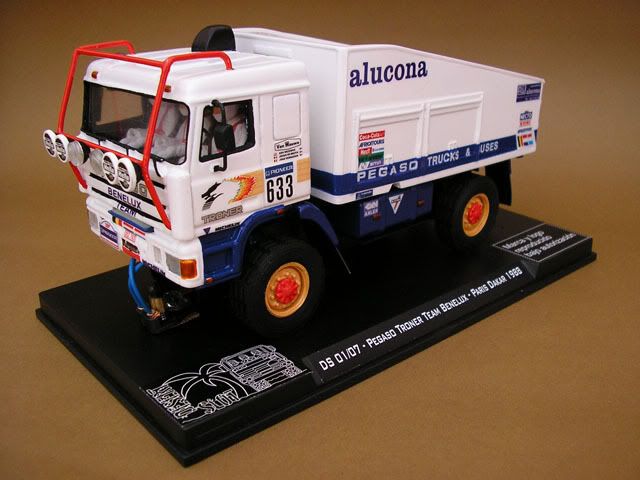 ESTA REFERENCIA NO TIENE PREVISTA SU COMERCIALIZACION EN KIT.
El precio de esta referencia es de 350 €.
Los gastos de manipulación y envío serán por cuenta del comprador.
Pedidos a:
desertslot@gmail.com
Un saludo
Desert Slot
www.desertslot.com