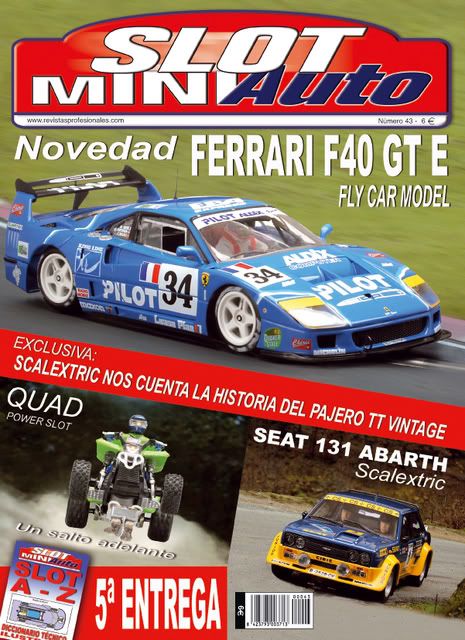 COMUNICADO DE PRENSA
SLOT MINIAUTO 43 - MAYO
La revista Slot MiniAuto del mes de Mayo, dedica su portada al nuevo Ferrari F40 GT E de Fly. También se destaca en la cubierta, la prueba del nuevo Quad de Power Slot y el Seat 131 Abarth de Scalextric.
Este número incluye además las pruebas en pista del nuevo Citroën C4 WRC de Ninco, Ford Mustang FR500 C de Superslot, el CD Panhard de Le Mans Miniatures, una toma de contacto del nuevo Audi R8C de Slot.it, así como la preparación extrema del Pescarolo de Avant Slot.
Se publica en exclusiva, una entrevista con Scalextric donde se desvelan algunos de los secretos del nuevo Mitsubishi Pajero TT Vintage.
Además, en este número se incluye gratuitamente, un especial Ferrari de 32 páginas.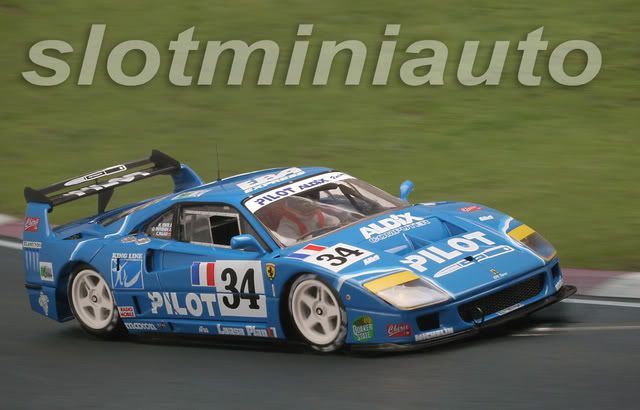 PRESS RELEASE
SLOT MINIAUTO 43 - MAY
Slot MiniAuto magazine edition of May, dedicate its cover to the new Fly Ferrari F40 GT E. Also highlighted on the cover, the new Power Slot Quad and the Fiat/Seat 131 Abarth of SCX.
This number also includes track test of the new Citroën C4 WRC of Ninco, Ford Mustang FR500 C Scalextric, CD Panhard Le Mans Miniatures, and a first track test of the new Audi R8C of Slot.it, as well as an extreme preparation of Avant Slot's Pescarolo.
It is published exclusively an interview with SCX where they reveal some of the secrets of the new Mitsubishi Pajero Vintage TT.
Moreover, a 32 pages Special Ferrari is included, free of charge, in this number.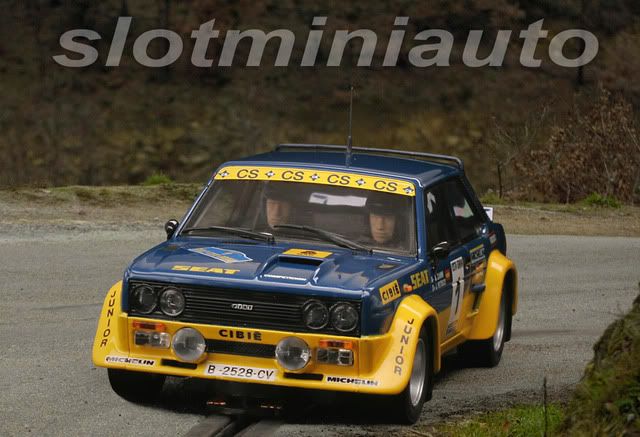 COMUNICATO STAMPA
SLOT MINIAUTO 43 - MAGGIO
La edizione di maggio da Slot MiniAuto, dedica la sua copertina a la nuova Ferrari F40 GT E di Fly. Inoltre evidenziato sulla copertina, il nuovo Quad di Power Slot e la Fiat / Seat 131 Abarth di SCX.
Questo numero comprende anche prova in pista della nuova Citroën C4 WRC di Ninco, Ford Mustang FR500 C Scalextric, CD Panhard Le Mans Miniatures, e una prima prova di pista della nuova Audi R8C di Slot.it, oltre a una preparazione estrema della Pescarolo di Avant Slot.
Esso è pubblicato esclusivamente un colloquio con SCX dove si rivelano alcuni dei segreti della nuova Mitsubishi Pajero TT Vintage.
Inoltre, un Speciali Ferrari di 32 pagine è incluso, a titolo gratuito, in questo numero.