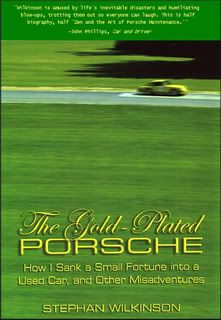 Ever thought about owning a Porsche? Well I sure have. I'd been talking with Van LaPointe (a slot brother and contributor here on SCN) about the idea of maybe someday actually buying a Porsche (an old one for sure...high miles.. cheap, maybe a 914... you get the idea) and he suggested a book, "The Gold Plated Porsche" by Stephan Wilkinson. Consider it sort of a "Zen and the Art of Porsche Restoration" he weaves stories that may with slotters out there that have fantasies of actually a real version of the slot cars they race.
He talks about several places I've been, so right away I was intrigued and wonder if I'd ever seen him while on endless drives around the northern 'burbs in my past life as a newspaper photog. He lives in Cornwall New York, very near where I used to work in Westchester County. He's a regular at
DeMan Motorsport in Nyack, New York
, I've been to that shop many times, once even talking with Porsche mechanic extraordinaire and I must admit, I've stood outside the gates at the shop and fantasized the Porsches (most of them racers not just for the gold-chained type of yuppie driver) crammed inside the gates. He paints a vivid picture of working on the car... and in excruciating detail about tuning the carbs which alone I think has scared me off of ever thinking about owning a car or even restoring one because I'll be the first to admit I'm laughably unqualified to do anything that could remotely be called "restoration" on a real car. Though he sure is encouraging in the book and frequently does imply that it's possible for maybe anyone to do what he'd done. So reading about the process was sure entertaining.
I came away with a number of things from reading this book, it was sure enlightening to hear about Stephan doing all the resto work himself including the paint. A common thread throughout the book was the idea that working on the car and putting your soul into the car to bring it back to life was the more important than the perfection that might be achieved by more capable hands doing the work instead of you. In the final few pages he retells a story about Ferry Porsche being at a Porsche Club of America concours show and he's asked if, looking out at several hundred polished-and-trailered-beyond-belief Porsche's, Ferry was proud of the sight of the cars. He wasn't, he said something to the effect that his cars were meant to be driven not polished. How does that relate to slot cars, well... how many shelf queens to you have? I've often thought that a slot car on a shelf is sort of like a life unlived, and I'm certain that when Van read that passage alone it resonated with him as well.
While I cannot ever know the beauty of rebuilding the most amazing car ever built (the Porsche 911) or the thrill of even driving a Porsche, I do know about the satisfaction of building a nicely running slot car and racing it. Whether it's a car that I will ever put on the top step of the podium during a slot race doesn't matter. Is there a connection with slot cars and this book, well probably not, I appreciated the honesty of what's between the covers. I appreciated hearing about the shade tree mechanic that restored this car, drips in the paint and all. And I do think that it's a book that every slot fan out there should read.
The Gold Plated Porsche

:How I Sank a Small Fortune into a Used Car, and Other Misadventures by Stephan Wilkinson. Copyright 2004, Published by The Lyons Press, Guilford Connecticut. Paperback, $14.95.
DaveK