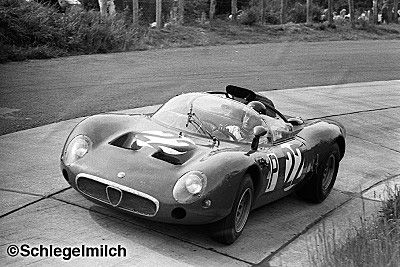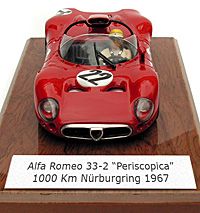 In Cursa Models produce slot cars since 1990, and the result of our experience, we begin a new stage in which we will provide 1/32 scale models in format "ready to run" in our composite material characterized by its lightness and strength that many successes have been achieved in 1/24 scale.
In this new stage we offer a product with high level of finish and good performance in track and replicate emblematic models of the history of motorsport. We are glad to show our latest model, created by Juanjo Moya (Mini Replicas in its early stages, and currently Cursa Models and Power Slot manager and modeller) and Albert Jobal (Slot Adictos spanish forum administrator), and is the car of the Slot Adictos Forum 2009: the Alfa Romeo 33-2 "Periscopica", which receives his nickname thanks to its spectacular central air intake. The car will be delivered with the wooden base and metal plate as in the photos, and the series will be limited to 300 units, numbered and include a certificate signed by their creators.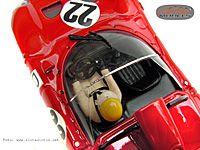 The "Periscope" is a model considered by many experts as one of the most beautiful race car ever built, and that despite its short history of sports, got remarkable achievements as his debut victory in the Fléron Hill Climb on 1967 in Belgium, or fifth place in the 1,000 Kilometers of Nurburgring in 1967, being the only vehicle capable of following the intractable Porsche 910, and staying ahead of a competitive Ford GT40, and decor that we chose to reproduce.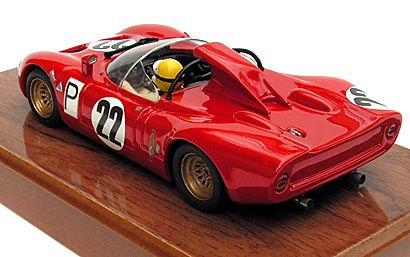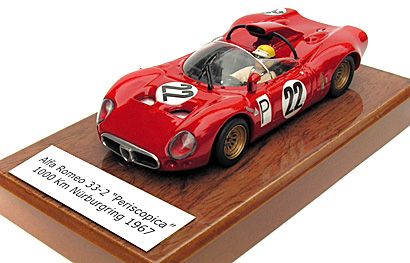 This car is designed to satisfy the most discerning collectors, but we did
not want to set aside the track, and assemble plastic chassis Power Slot
origin in position "anglewinder" mounted on a Setup motor mount. The
mechanics, however, and for the sole purpose of lowering the final price
will not be calibrated, but is easily replaceable material getting a premium
vehicle with very good performance on track thanks to its body of 25 g and
the chassis setup.
The price is 95 euros Car Price (postage part). For dealers and shops ask
price.
You can find more information in
www.slotadictos.net
and make your order by
sending your personal information (name, e-mail, address, phone number and
number of units) to the following e-mail: cochefsa09@cursamodels.com.
Best regards,
Cursa Models.