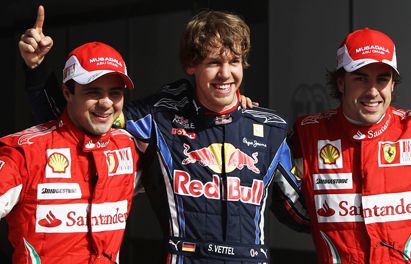 F1 Qualifying from Bahrain:
Drivers:
1. Sebastian Vettel (Red Bull), 1m 54.101s
2. Felipe Massa (Ferrari), 1m 54.242s
3. Fernando Alonso (Ferrari), 1m 54.242s
Q: Sebastian, the testing did not tell us very much. You have picked up where you left off but how big a surprise is pole position to you?
Sebastian Vettel:
A big surprise. I mean in winter testing no-one really knew where we were. Of course it was clear that there were four teams pretty strong, but close to each other. To be honest yesterday it was a very tough day for us and we had not as much running as we were hoping for. Another long night especially for the mechanics, not a lot of sleep, some tired faces, but everyone was still keen this morning to push. I knew we had a great car but first of all you have to get it together. I have to say practice this morning and qualifying went pretty smoothly. Obviously I am very, very happy to be on pole, so thanks to the team. As I said the boys didn't get much sleep in the last month with a lot of testing in a short amount of time. To come here first time everyone really shows how strong they are and to be on top is definitely a very, very nice feeling.
Q: Felipe, what comeback for you from injury. Tell us about how you feel today about your journey back here and your performance today.
Felipe Massa:
Well, first of all congratulations to Sebastian he did a great job for the first race of the season. I think it is very nice to be back here racing competitively and in a good direction. I feel very happy to be back after such a difficult time. I was watching the races on television and was pretty excited but it is much better to be sat in the car. I prepared myself in a good direction, testing, driving go-karts, everything was great to be back in the car for racing and if you look at what happened last season with us I think it is a good start to the season for us. After a difficult season where we finished in the last race and where we are starting the season in the first race is always great for the team, great for the guys who did a very tough job inside the factory since a long time, so I feel really positive to start on the first race second. We are second and third and for the team that is really great and we will see how we doing in the race. Red Bull and also some other teams are really strong, so the race will be very difficult but I am very happy to be here fighting for the top.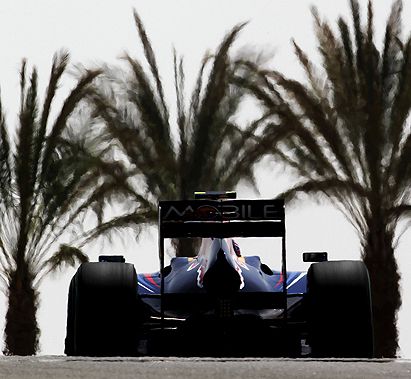 Q: Fernando, the margins at the end of qualifying were quite a bit bigger than they were at the beginning. What do you put that down to and how do you feel about where you have ended up?
Fernando Alonso:
Well, I think the difference is difficult to read. With such a long lap like this one and with the conditions we were facing, with this very warm temperature, I think it is very difficult to complete that long lap with no mistakes and not any problems. I think the times are related to how the gap was as well and about the competitiveness of the car. I think in different parts of the weekend we saw times that were very tight and times that were split like they are now but I think it is okay. From our point of view we are obviously extremely happy with the result of this weekend so far. The race is tomorrow. We cannot forget this but so far everything has been great and we will keep going as we did all winter testing with a very strong car and I think competitive in all conditions, qualifying and race, and to be second and third as Felipe said is a great achievement for everybody in the factory at Maranello and the job they did from November last year until now was flat out every day and every night and the first result of the season is very, very positive, so this is a big boost for the team to carry on.
Photo used with permission from Red Bull Racing.