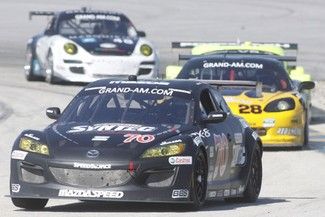 DAYTONA BEACH, Fla. (March 24, 2010) - Teams fielding Camaro, Corvette, Porsche and BMW race cars are looking to snap Mazda's two-race winning streak in the Porsche 250 on April 10 at Barber Motorsports Park in Birmingham, Ala., Round 3 of the 2010 GRAND-AM Rolex Sports Car Series presented by Crown Royal Cask No. 16.
The race will take the green flag at 1:36 p.m. ET, with live SPEED coverage beginning
at 1:30 p.m. ET.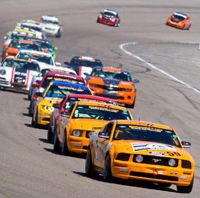 Andrew Davis and Robin Liddell won the 2009 Porsche 250 in a Pontiac GXP.R. Stevenson Motorsports is fielding a pair of Camaros for 2010, the No. 57 for Davis and Liddell and the No. 97 for Jan Magnussen and Gunter Schaldach.
Three teams will field Corvettes. Banner Racing has the No. 07 Mobil 1 Corvette for 2008 GT co-champion Paul Edwards and motorcycle legend Scott Russell. Lou Gigliotti's LG Motorsports debuted the No. 28 Corvette for 2008 co-champion Kelly Collins and Eric Lux in the recent race at Homestead-Miami Speedway, while Marsh Racing makes its GRAND-AM debut at Barber with the No. 31 Whelen Engineering Corvette for Eric Curran and Sonny Whelen. Collins and Edwards teamed to win GT honors in the 2007 Porsche 250 in the No. 07 Banner Racing Pontiac GXP.R.
Three Porsches are entered in the event. John Potter and Craig Stanton share the No. 44 Magnus Racing Porsche GT3, Shane Lewis and Richard Zahn co-drive the No. 46 Autohaus Motorsports entry while Luke Hines and Bryce Miller compete in the No. 48 Miller Barrett Racing GT3.
Bill Auberlen and Paul Dalla Lana are entered in the lone BMW, the No. 94 Turner Motorsport M6 that made its debut in the season-opening Rolex 24 At Daytona. The team had a strong showing in the Grand Prix of Miami, leading four laps and finishing fifth.
The four marques will be taking on Mazda, which has four teams fielding eight cars and won the GT class in both races this season. SpeedSource owner Sylvain Tremblay and new regular co-driver Jonathan Bomarito, joined by Nick Ham and David Haskell, won the season opening Rolex 24 in the No. 70 Castrol Syntec Mazda RX-8, while Emil Assentato and Jeff Segal captured GT honors in the team's No. 69 FXDD Mazda at Homestead. SpeedSource also fields the No. 68 of rising stars John Edwards and Adam Christodoulou.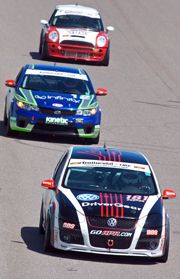 Dempsey Racing has expanded to two Mazdas this season. Racer/actor Patrick Dempsey and Joe Foster return in the No. 40, joined by defending GT champion Leh Keen and James Gue in the No. 41 - who scored Dempsey Racing's first podium finish by placing third at Homestead. Team Sahlen has a pair of Mazdas, with Joe Sahlen joining Joe Nonnamaker and his two sons, Will and Wayne Nonnamaker. Returning with one car is Racers Edge Motorsports, fielding the No. 30 for Todd Lamb and Jordan Taylor.
Practice for the Porsche 250 begins at 2:55 p.m. ET on Thursday, April 8, with qualifying Friday at 11:40 a.m.