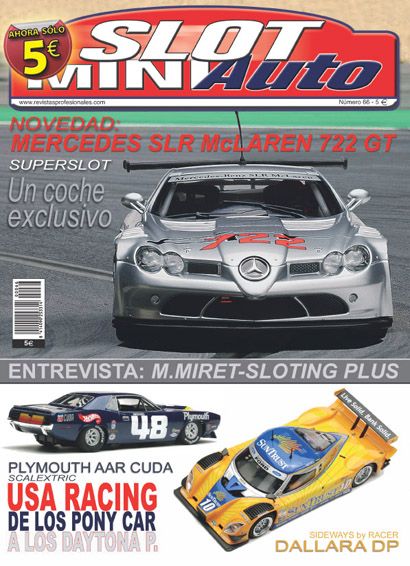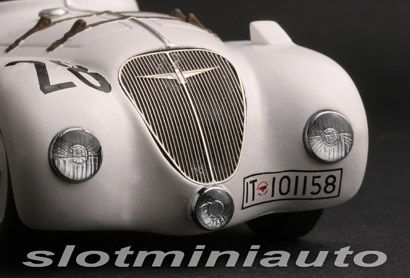 COMUNICADO DE PRENSA
SLOT MINIAUTO 66 – ABRIL
La revista Slot MiniAuto del mes de abril destaca en su portada el nuevo Mercedes SLR McLaren 722 GT de Superslot. Se incluyen además las pruebas en pista del Chaparral 2E, con una interesante explicación de Maurizio Ferrari de Slot.it, el nuevo Dallara DP de Sideways by Racer, el Plymouth AAR Cuda de Scalextric, los Porsche RSR, RS, y GT de Scaleauto en escala 1:24, el montaje del Megane 1:28 de TRP, y un extenso reportaje del Chasis Montecarlo de MSC.
Destacamos también, dentro de nuestra serie a los coches de Le Mans, los Adler LM 1937 de TRRC.
También damos a conocer nuestro especial Art Car, pieza única sobre la base del Mazda 787B, Coche del Año 2009, realizado por el artista Héctor Fernández.
La revista se completa con las secciones habituales de noticias, presentaciones, novedades y slot competición.
Ahora Slot MiniAuto en Facebook
(Más información en www.revistasprofesionales.com)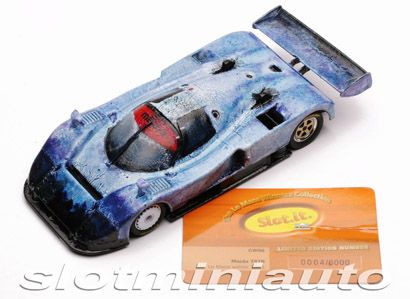 PRESS RELEASE
SLOT MINIAUTO 66 – APRIL
Slot Miniauto Magazine for April highlights on its cover the new Scalextric Mercedes SLR McLaren 722 GT. Also included are the track test of the Chaparral 2E, with an interesting explanation of Maurizio Ferrari Slot.it owner, the new Sideways by Racer Dallara DP, SCX Plymouth AAR Cuda, the Porsche 911 GT3 RSR/CUP and GT Scaleauto at 1:24 scale, the assembly of the Megane 1:28 TRP, and an extensive report about the MSC MonteCarlo universal Chassis. We point out too, in our Le Mans cars series, the TRRC Adler LM 1937. Slot MiniAuto also discloses our special Art Car, unique piece based on the Mazda 787B, Car of the Year 2009, made by the artist Hector Fernandez. The magazine is complete with the usual sections of news, features, novelties and slot competition.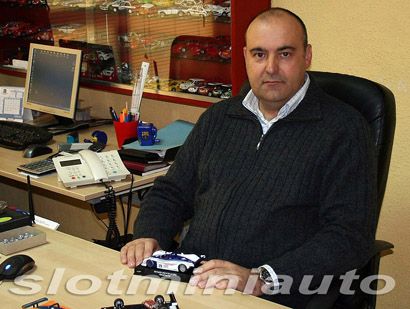 Now Slot MiniAuto in Facebook
(More information on www.revistasprofesionales.com)