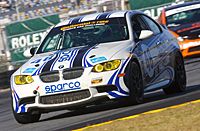 DAYTONA BEACH, Fla.
- Fall-Line Motorsports has become one of the top contenders during this season's GRAND-AM Continental Tire Sports Car Challenge, which will compete in its third race of 2010 at 4 p.m. CT Saturday at Barber Motorsports Park.
The Chicago-based team has gone from competing with a pair of BMW M3s in the Grand Sport (GS) class that competed for top five finishes to a three-car team that is contesting for victories. Heading into Saturday's two-and-a-half hour Barber 200, the team is first and second in the standings, with points co-leaders Charles Espenlaub and Charlie Putman in the No. 48 Sparco/Battery Tender BMW M3 holding the advantage by a single point (58-57) over teammates Terry Borcheller and Andrew Hendricks in the No. 45 Stable One Racing BMW M3.
The team's third car, the No. 46 Trim Tex BMW M3 this weekend driven by team owner Mark Boden and Joe Koenig, is seventh with 42 points.
Boden entered the Continental Tire Sports Car Challenge in 2006, and his team has steadily improved. The team earned its first podium finish in 2007 at Homestead-Miami Speedway, and it took more than two seasons for Fall-Line to return to the podium. That instance came in last season's finale at Virginia International Raceway, when Borcheller and Hendricks finished second.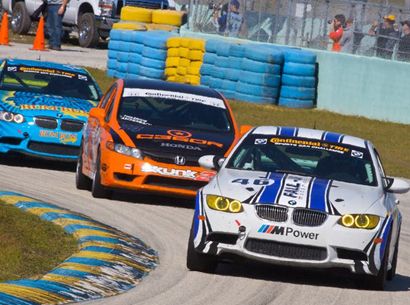 Now, the team is on a three-race podium streak, with Espenlaub and Putman taking second at Daytona International Speedway, and Borcheller and Hendricks finishing second at Homestead-Miami. The team also built and delivered the Daytona-winning car, the No. 13 RumBum.com BMW M3 driven by Matt Plumb and Gian Bacardi.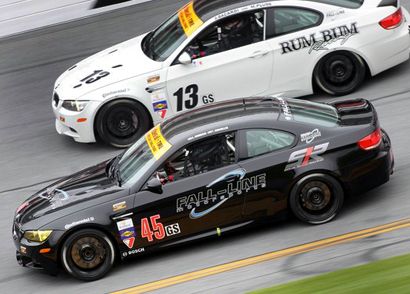 While Fall-Line searches for its first victory, the team will have to keep at bay a fleet of Mustangs - both the GT and new Boss 302R models. Mustangs finished first and second in 2008 and swept the podium last season. Among the top challengers with Mustangs is Rehagen Racing, which fields the No. 59 Rehagen Racing Products Ford Mustang GT for defending series champion Ken Wilden and rookie Ryan Winchester; JBS Motorsports, which fields the No. 37 Trumansburg ShurSave Ford Mustang Boss 302R for defending race winners James Gue and Bret Seafuse; Multimatic Motorsports, which fields two Mustangs, one for 2008 Barber winners Joe Foster and Scott Maxwell; and Homestead-Miami race winners Billy Johnson and Jack Roush Jr. in the No. 61 Roush Performance Products Ford Mustang GT.
Porsche has a record four series victories at Barber. Six Porsches are entered - three from BGB Motorsports, two from Ranger Sports Racing and one from Magnus Racing.
The Street Tuner (ST) class, featuring top compact models such as Honda Civics, Mazda MX-5s, BMW 328 and 330 models and Volkswagen GTIs, will also compete. Leading the charge in ST are Lawson Aschenbach and David Thilenius, who have finishes of first and second to begin the season in the No. 74 Skunk2/OMP Honda Civic Si, one of four cars entered by Compass360 Racing. Compass360 has yet to win at Barber, though its 10 victories ranks fifth most all-time in ST.
Freedom Autosport won the most recent race, at Homestead-Miami, and has victories in three of the last five races. Derek Whitis, who teamed with Tom Long in the No. 25 Aventura Technologies/PFC Mazda MX-5 to win at Homestead-Miami, is third, while teammates Andrew Carbonell and Rhett O'Doski are fifth in the No. 26 Aventura Technologies/PFC Mazda MX-5.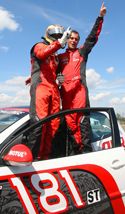 The only Alabama-based team, APR Motorsport, from Auburn, is the defending race-winning team in ST and brings three Volkswagen GTIs and an Audi S4, which competes in GS. Josh Hurley teams with rookie Dr. Kevin Stadtlander to go for two consecutive victories at the track in the No. 181 APR/BBS Volkswagen GTI.
Rookie team BimmerWorld/GearWrench is also entered with two BMW 328s, including the No. 81 Performance Friction/RAYS Engineering BMW 328 for Bill Heumann and Seth Thomas, second in the standings.
Practice for the Barber 200 begins at 1 p.m. CT Thursday, with two 15-minute qualifying sessions beginning at 9:50 a.m. CT Friday. The Barber 200 begins at 4 p.m. CT Saturday.
News and photos used with permission from Grand Am.