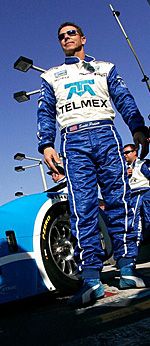 DAYTONA BEACH, Fla. - Now that Scott Pruett has turned 50, his fellow competitors in the GRAND-AM Rolex Sports Car Series presented by Crown Royal Cask No. 16 may be hoping that the 23-time overall race winner and two-time Daytona Prototype champion may be ready to cut back his racing schedule and spend more time working in his new winery.
Fat chance.
Coming off a victory in the Grand Prix of Miami with Memo Rojas in the No. 01 TELMEX Chip Ganassi with Felix Sabates BMW Riley, Pruett has no plans to slow down in the foreseeable future.
"I enjoy racing in GRAND-AM," said Pruett, who shares a six-point lead with Rojas atop the Daytona Prototype standings entering the Porsche 250 at Barber Motorsports Park on April 10 (1:30 p.m. ET, SPEED, live).
"I think I have a couple of good races left in me and I'm just having fun," Pruett said. "I really enjoy the competition. I enjoy getting out there and racing hard with all of the competition, no matter what age or what team."
Pruett opened the season with a second-place finish in the Rolex 24 At Daytona for the second consecutive year in the event he has won overall three times. While Hurley Haywood - the all-time Rolex 24 overall winner with five victories - retired after the 2010 event, Pruett shows no sign of letting up.
"First and foremost, the biggest thing with any athlete is attitude," Pruett said. "I absolutely still love the driving. I started when I was eight. Now I'm in my 42nd year of racing, which is incredible, but I still love it, and I think I love it even more as the years go by. I still feel like I'm a student of the sport and I'm still learning from every test, from every race, from every qualifying session, you learn more about the cars and how to set them up and find what you're looking for. My first focus is getting in the race car and to keep going out and competing. You absolutely have to have that passion and that love, and then everything else falls into place."
Pruett continues to work out every day, although he admits to spending more time working in his vineyard instead of the gym.
"We are introducing the first Pruett-labeled wine at the Pebble Beach Food and Win Festival the same weekend as the Porsche 250," Pruett said. "I've been training heavily, whether it's at my home gym or at the club or on a simulator. The simulator and the wine side of it has got me incredibly busy this year."
The Ganassi team also isn't sitting still, switching to a Dinan-prepared BMW engine for 2010.
"That's been a great change for us," Pruett said. "Steve Dinan has been just incredible and has given us good reliability and an engine that we feel has given us very good compatibility."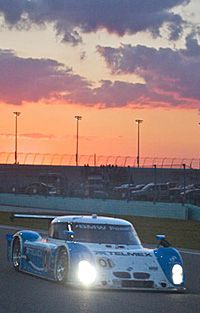 Pruett and Rojas have enjoyed success at Barber, winning there during their 2008
championship season. After running at the circuit in mid-90-degree temperatures in recent season, both drivers welcome racing there in more enjoyable conditions in April.
"You've got to be on your game all the time at Barber," Pruett said. "It's going to be great going there when you're not focused only on surviving the heat, but going racing. With the cooler conditions I think we're definitely going to see some higher speeds."
Practice for the Porsche 250 begins at 2:55 p.m. ET on Thursday, April 8, with qualifying Friday at 11:40 a.m.

Photos and news used with permission from Grand Am.