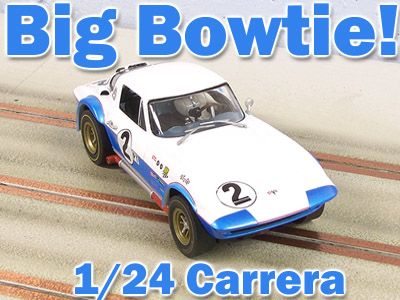 By Harry Wise of Home Racing World
:
We have a lot of choices in our hobby today and because of all these great offerings, some models simply slip through my fingers. This Carrera Corvette model is one of them. Of course it has been on my list like many others, but thanks to some perfect timing this classic bowtie finally arrived sooner than I expected.
All Carrera 1/24 models really need 18 volts to run optimally. I want to make that clear before I give you my comments. I simply do not race Carrera 1/24 that often, but when I do it is just like our other scales and classes: Just for fun. Something different every once in awhile.
The one change is the NEW TIRES Carrera makes for these cars. These are a slightly softer compound and they did make the operation a lot better. You still need to sand them pretty good to get a optimal tire patch, but that is easily done.

Read the full review at this link.