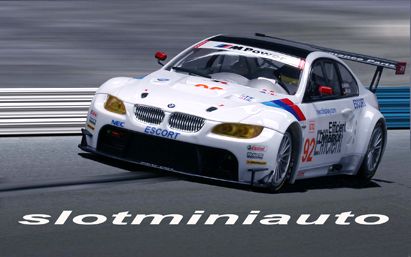 COMUNICADO DE PRENSA
SLOT MINIAUTO 79 – MAYO
El nuevo BMW M3 GTR GT2 de Scaleauto es el protagonista principal de nuestra portada del mes de mayo. También se destaca las pruebas del nuevo Ford Escort RS1600 Rally Safari de Superslot y del Porsche 911 S de MRRC.
En el interior se puede encontrar los reportajes del Corvette SR2 de Ninco, el nuevo Vintage Banco Occidental de Scalextric, el Mercedes Benz W196 y Pegaso Spyder Touring Panamericana de Top Slot. Además una excepcional colección de los Chevrolet Corvette que participaron en Le Mans de 1960.
Además de las noticias, novedades y presentaciones de modelos nuevos, destaca el artículo de brico-slot, de cómo realizar muros de piedra.
(A la venta el 28-04-2011)
Slot MiniAuto en Facebook
(Más información en www.revistasprofesionales.com)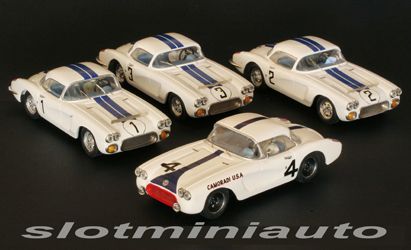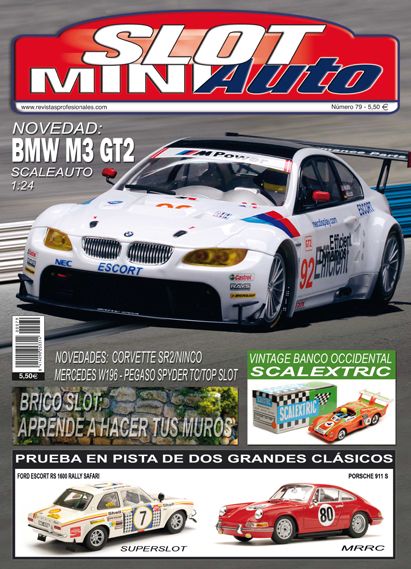 PRESS RELEASE
SLOT MINIAUTO 79 – MAY
The new 1:12 Scaleauto BMW M3 GTR GT2 is the main protagonist of our cover in May. It also highlights the track test of the new Scalextric Ford Escort RS1600 Safari Rally and MRRC Porsche 911 S.
Inside you can find reports of Ninco's Corvette SR2, the new Scx Vintage Renault Alpine, the Top Slot Mercedes Benz W196 and Pegaso Touring Spyder Panamericana. Also an exceptional collection of the Chevrolet Corvette that took part in Le Mans, 1960.
In addition to news, novelties and presentations of new models, a notably article of DIY-Slot, how to make stone walls.
(On-Sale 28/04/2011)
Now Slot MiniAuto in Facebook
(More information on www.revistasprofesionales.com)