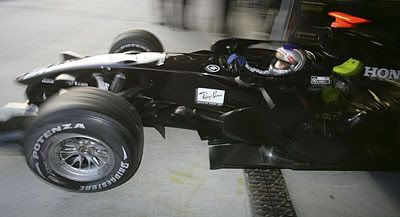 Honda F1 news...
IndyCar driver Marco Andretti joined the Honda Racing F1 Team in Jerez on Friday for his first drive in an F1 car.
The team offered the opportunity to Marco to drive the RA106 race car in recognition of his achievements in the Honda-powered IndyCar series this year.
Marco began running shortly after 9am with an installation lap, followed by several short runs to familiarise himself with the car and get used to the controls. He completed 33 laps before the morning session came to a close.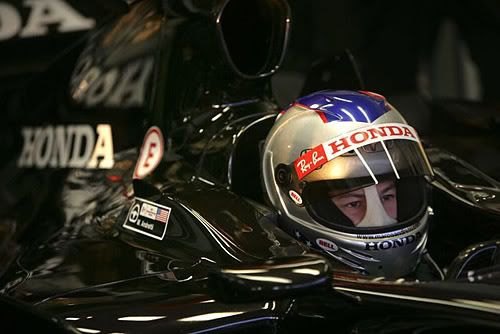 Marco was back on track at the start of the afternoon session and continued to steadily improve his lap times as he completed a further 35 laps for a total of 68 laps today.
Marco Andretti
"First of all I couldn't have had more fun today and it's a shame that it was only a day! It took me a little while to get used to the traction control and the brakes but once I got to grips with them, the times were more and more consistent. I would like to say a big thank you to the Honda Racing F1 Team on how professional and welcoming they have been this week, and I'm sure that they will have a good season next year."
BMW F1 news of a different sort....
Hinwil-The BMW Sauber F1 Team has a new super brain. Albert2, presented on Thursday to international media representatives in Hinwil, is Europe's fastest machine used in industry according to the current Top-500 list. Albert2 is based on Intel processors and employed by the team for computational fluid dynamics (CFD). On average, it is about three times faster than its predecessor.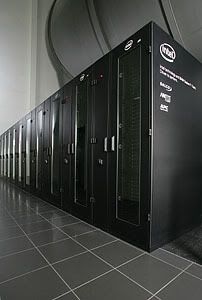 "The powerful Dual-Core Xeon processors perfectly match the high demand on computing power of the BMW Sauber F1 Team. The cluster based on these processors is one of the fastest in the world running computational fluid dynamic applications," said Christian Morales, Vice President & General Manager of Intel Europe, Middle East and Africa. "With the move to Multi-Core we are able to meet the future demand on computing power of the BMW Sauber F1 Team for computational fluid dynamics."
Albert2 is based on Intel technology. It has 256 nodes with two Intel Xeon 5160 processors each, and each of these has two cores. This results in a total of 1024 cores. The capacity of the main memory is 2,048 Gbyte, the maximum computing power is 12,288 GFlops.
To illustrate the point for non-computer-experts, this means that Albert2 is capable of performing 12,288,000,000,000 floating-point arithmetic operations per second. To equal this computing power, all the inhabitants of the city of Munich (1.3 million) would have to multiply two eight-digit numbers every three and a half seconds for an entire year.
According to the criteria defined for acceptance in the Top-500 list of Supercomputers, this data makes Albert2 5.5 times faster than its predecessor, Albert. In the field, though - as with any computer - the software used plays a crucial part when it comes to speed. But even when running the complex programs for CFD calculations the increase is immense: when using the Fluent application, the average performance improvement amounts to a factor of three.
All news and photos copyright Honda & BMW used with permission of Honda and BMW, no reuse for any reason of their content.