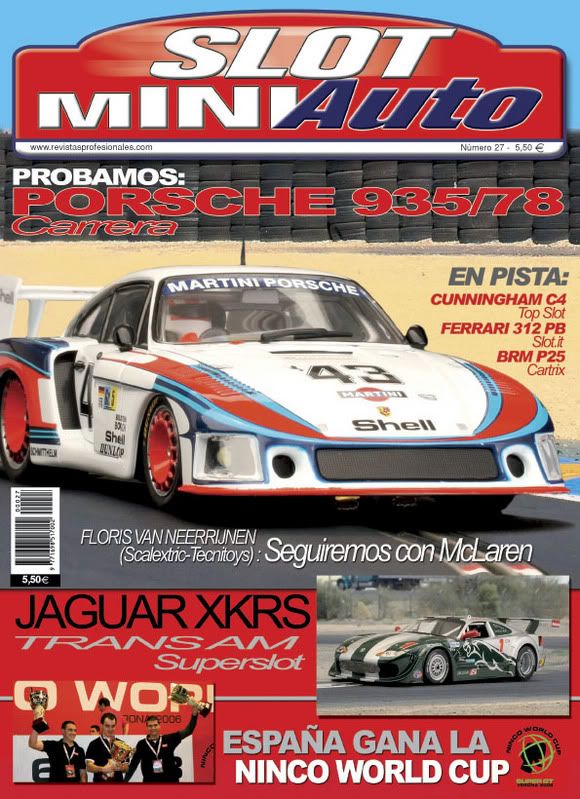 MINIAUTO SLOT 27- JANUARY 2007
The monthly magazine MiniAuto Slot #27, corresponding to the month of January of the 2007, emphasizes in its cover the track test of the new Carrera Porsche 935/78. Also is highlighted the track test of the Scalextric Jaguar XKRS Trans-Am and the victory of the Team Spain in the Ninco World Cup celebrated in Verona. The magazine also includes the tests of Top Slot's Cunningham C4R, the new Slot.it Ferrari 312PB and the Cartrix BRM P25. In the interior, the exclusive declarations of the Tecnitoys Product Manager, Floris van Neerrijnen, can be found, the new policies and features of SCX for the 2007.
Albert Boet
Director
MiniAuto Slot
----------------------------------------------------------------------------------------------------------
NOTA DE PRENSA
MINIAUTO SLOT 27 - ENERO 2007
La revista mensual MiniAuto Slot, correspondiente al mes de Enero del 2007, destaca en su portada la prueba del nuevo Porsche 935/78 de Carrera. También se resalta el test en pista del Jaguar XKRS de la Trans-Am de Superslot y el triunfo del Team España en la Ninco World Cup celebrada en Verona.
La revista también incluye las pruebas del Cunningham C4R de Top Slot, el Ferrari 312PB de Slot.it y el BRM P25 de Cartrix.
En el interior se pueden encontrar las declaraciones exclusivas del Product Manager de Tecnitoys, F. van Neerrijnen, en las que desvela la política y novedades de Scalextric para el 2007.
Albert Boet
Director
MiniAuto Slot