Global Proxy Race Sponsor
Slot Car World
is having a sale on Artin Stockers Sets.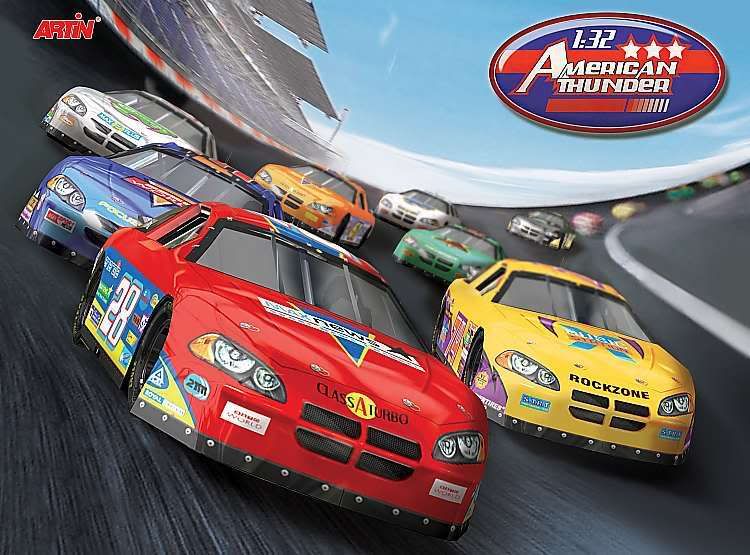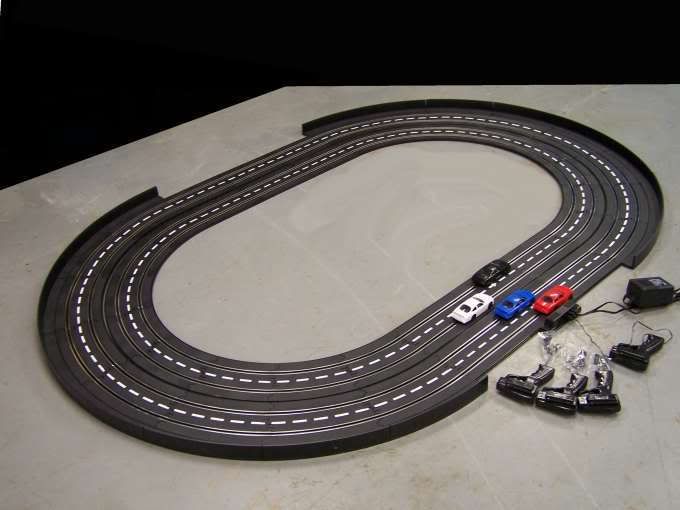 54032 4 Lane Stocker oval set R3/R4 ...$179.00 ....
GIANT SALE $149
for this big set
4 new stockers NEW
Red/White/Black/Blue
Dimentions: 8' x 5'4"
TRACK SYSTEM IS EXPANDABLE AND BANKABLE
(using templates provided)
ARTIN HAS THE ONLY 4 LANE ON THE MARKET
THAT CAN BE MADE INTO 8 LANES BY ADDING CURVES
AND BY ADDING STRAIGHTS AS BIG AS YOU WANT
ALSO CAN BE MADE IN FIGURE 8 BY ADDING CURVES
AND STRAIGHTS
-------------------------
Global Proxy Race Prototype qualifying top 4 cars-at least 2 entries still unaccounted for.
#1, Porsche 908/3, Tony Kuljis, 119 laps, GPR Race Record
Best Lap Time: 4.917 sec.
Offs: 0. Easy to drive, smooth, nice gear noise. No one can beat oil soaked NSR tires, but the grip level seems not as high as when the car first arrived. Could not match its qualifying time. I wonder how the tires will be a month from now, and nine months from now, as the oil evaporates. Still, a well balanced car, a pleasure to drive fast, should be a front runner everywhere.
#55 Ferrari 512S, Robert Livingston, 118 laps.
Best Lap Time: 4.951 sec.
Offs: 0. Smooth, predictable handler, loose suspension components rattle. V12/2b 25k has nice power curve, not too much torque at the low end. Drives like a good 23k.
#69 Porsche 917K, Terry Noe, 115 laps.
Best Lap Time: 5.070 sec.
Offs: 0. Smooth runner, easy, Slot.It S1 tires, Orange Endbell Slot.It V12/3 sidewinder, HRS chassis, a good combination. Easy to go fast and stay in the slot. I wore the good luck necklace Terry sent with the car. Spare tire in the rear, fairly narrow rear track, but Terry built a fast one. Every car should be this good.
#3 Porsche 936, Dr Vanski, 113 laps.
Best Lap Time: 4.977 sec.
Offs: 2. This car is really hard to drive fast. Ortmann tires not quite up to the job of harnessing the enormous power of the NSR King motor (30k, 310 g-cm). Lots of time spent sideways, but a light touch on the throttle kept the car moving forward. Maybe the magnet it carries can tame the beast.
-------------------------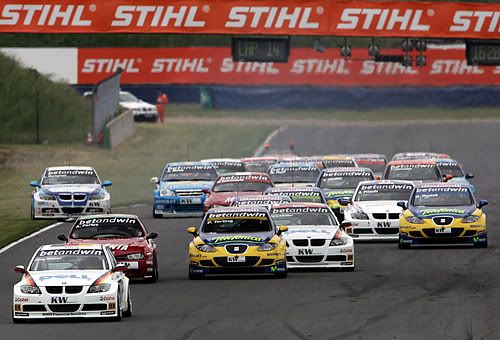 Oschersleben Motorsport Arena 2006
SCNews Wire
-Today in Monaco, the FIA World Motor Sport Council confirmed the 2007 FIA World Touring Car Championship's calendar, with only one change.
The German event at the Oschersleben Motorsport Arena has been moved one week forward, from the 2nd of September to the 26th of August.
2007 FIA World Touring Car Championship
11 March Brazil Curitiba **
15 April Mexico Puebla **
20 May Spain Valencia
3 June France Pau *
17 June Czech Rep. Brno
8 July Portugal Porto *
29 July Turkey Istanbul
26 August Germany Oschersleben
23 September Gr.Britain Brands Hatch
7 October Italy Monza
18 November Macau Macau
* Pending the homologation of the circuit
** Pending the homologation of the circuit prior to 31 December 2006
----------------
Indycar star Marco Andretti to drive Honda RA106 in Jerez
IndyCar Series 'Rookie of the Year' Marco Andretti will experience a Formula One car for the first time courtesy of the Honda Racing F1 Team when he joins the team's test in Jerez next week.
The team has invited Marco to drive its 2006 RA106 race car on Friday 15 December, the final day of its scheduled test, in recognition of his achievements in the Honda-powered IndyCar Series this year. The 19 year old recently completed his first season in the IndyCar Series, driving the #26 NYSE car for Andretti Green Racing. A superb 'rookie' year saw Marco finish second in the 2006 Indianapolis 500, capture his first career victory at the Indy Grand Prix of Sonoma and finish the season in seventh position overall in the drivers' standings. Marco was further honoured with the Bombardier Rookie of the Year Award and the Rising Star Award.
Marco is the son of two-time IndyCar Series championship-winning team owner and former CART champion Michael Andretti, and the grandson of racing legend Mario Andretti. He is also team-mates at Andretti Green Racing with Brazilian Tony Kanaan, who also experienced a drive in a Honda F1 car in December 2005, Scotsman Dario Franchitti and Danica Patrick.
Honda Testing news
The Honda Racing F1 Team completed its second test of the close season at the Jerez circuit in Spain today. The main focus of this week's test was the continued evaluation of the Bridgestone Potenza tyres with Rubens Barrichello, Christian Klien and James Rossiter fulfilling the driving duties.
Christian and James began the test on Wednesday with cold and damp conditions meaning that both drivers went out on Bridgestone wet weather tyres for the first time. Emerging sunny weather ensured that the track was dry by lunchtime, allowing the planned test programme to begin. Christian continued his acclimatisation to the car as he spent the afternoon working to find a consistent balance, completing 90 laps. James also focused on car set-up work, running for 104 laps.
Rubens joined the team on Thursday, taking over from James. He spent his early laps finding a good balance before running through a suspension evaluation, alongside general car set-up work, covering 105 laps. Christian spent most of the day concentrating on an intensive aero programme before finishing with some electronics set-up work, completing 99 laps.
Heavy overnight rain in Jerez meant that the start of running was slightly delayed on the final morning. Rubens and James went out initially on extreme wets before switching to wet tyres as the circuit dried out. Rubens completed a couple of short set-up runs to look at engine control settings, whilst James worked through a longer tyre evaluation run. During the afternoon, both drivers continued with set-up work and longer tyre runs on the Bridgestone dry tyres.
--------------
All WTCC and Honda F1 news used with permission of those sources. No reuse without their permission.
DaveK
Publisher, Slot Car News