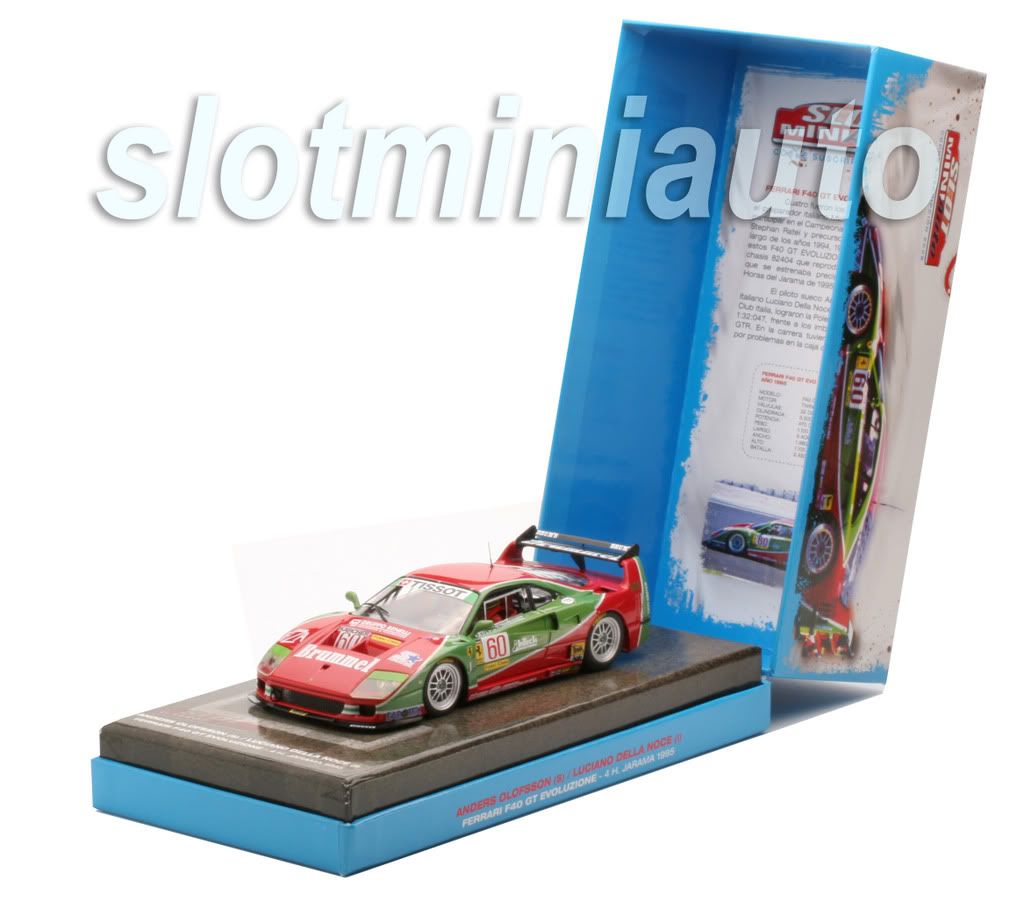 SLOT MINIAUTO
COMUNICADO DE PRENSA
SLOT MINIAUTO
COCHE DE SUSCRIPCIÓN 2008
FERRARI F40 GT EVOLUZIONE
4 H. Jarama 1995
El nuevo coche exclusivo para los suscriptores de la Revista Slot MiniAuto ya esta listo para empezar a servirse. Con este modelo, ya son quince los que configuran la larga lista de coches exclusivos realizados por Slot MiniAuto para sus lectores. El modelo de este año es un Ferrari F40 GT Evoluzione, fabricado por Fly Car Model y ensamblado por Revistas Profesionales, con la decoración "Brummel" y dorsal 60 que participó en el Campeonato BPR, y concretamente en las 4 Horas del Jarama del 1995 con el piloto sueco Anders Olofsson y el italiano Luciano Della Noce.
La edición de este modelo se ha limitado a 1000 unidades y hay muy pocas unidades disponibles para nuevos suscriptores.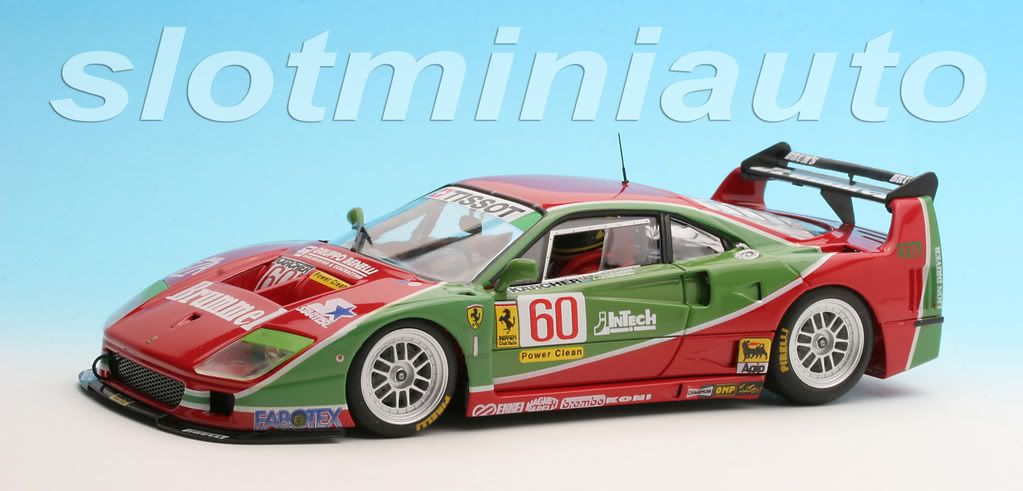 PRESS RELEASE
SLOT MINIAUTO
SUBSCRIBERS CAR 2008
FERRARI F40 GT EVOLUZIONE
4 H. Jarama 1995
The new Slot MiniAuto magazine 2008 subscribers car is now ready to send. With this model, it is fifteen cars that make up the long list of exclusive pieces made by Slot MiniAuto for their readers.
The model for this year 2008 is a Ferrari F40 GT Evoluzione, manufactured in kit by Fly Model Car and assembled by Revistas Profesionales, with the decoration "Brummel" who participated in the BPR Championship, and specifically within the 4 Hours of Jarama, in 1995, with the Swedish pilot, Anders Olofsson and Italian teammate, Luciano Della Noce.
This model has been limited to 1000 units and there are very few units available for new subscribers.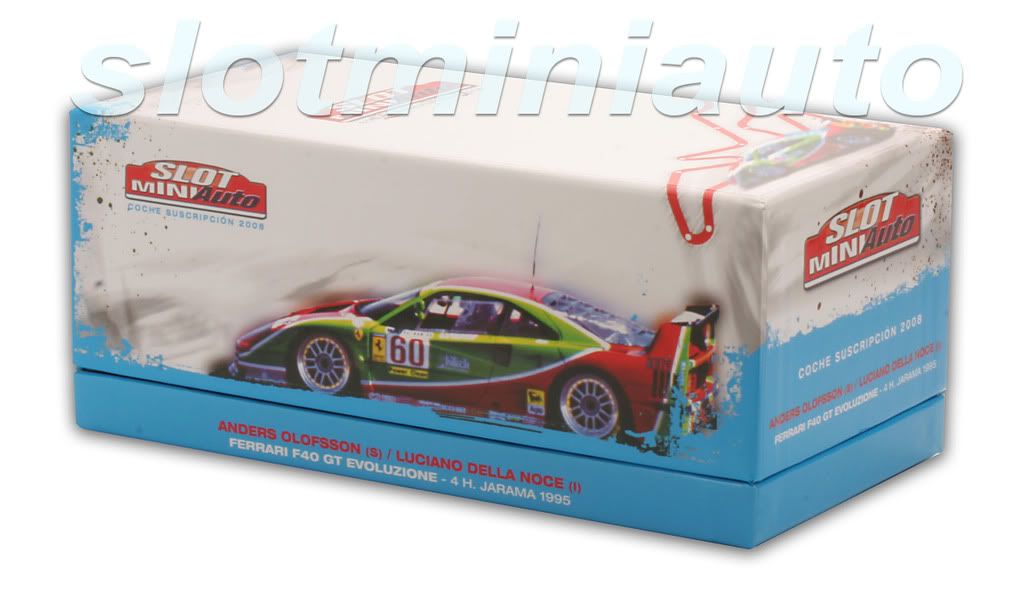 COMUNICATO STAMPA
SLOT MINIAUTO
MODELLO ABBONATI 2008
FERRARI F40 GT EVOLUZIONE
4 O. Jarama 1995
Il nuovo modello esclusivo agli abbonati de Slot MiniAuto e pronto. Con questo modello, dal momento che è quindici che compongono la lunga lista di automobili esclusive da Slot MiniAuto per i loro lettori. Il modello per l'anno in corso è una Ferrari F40 GT Evoluzione, prodotti da Fly Car Model in kit, e montati da Revistas Profesionales, con la decorazione "Brummel" che ha partecipato al Campionato BPR e, in particolare, entro 4 Ore di Jarama nel 1995 con il pilota svedese, Anders Olofsson, e italiano, Luciano Della Noce.
Questo modello è stato limitato a 1000 unità e ci sono poche unità disponibili per i nuovi abbonati.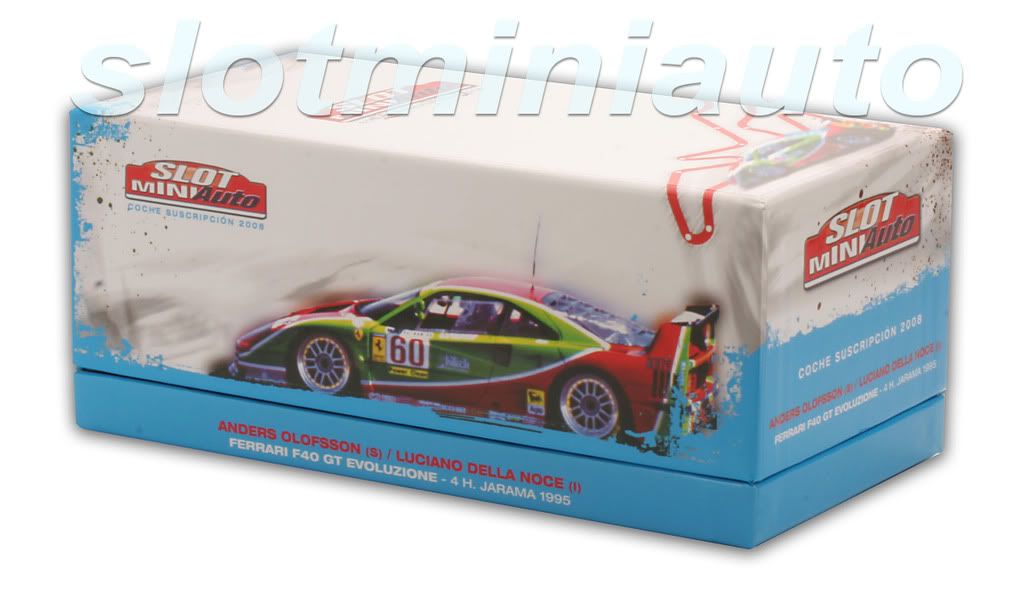 COMMUNIQUE DE PRESSE
SLOT MINIAUTO
VOITURE ABONNEMENT 2008
FERRARI F40 GT EVOLUZIONE
4 H. Jarama 1995
La nouvelle voiture exclusive aux lecteurs abonnés du Journal Slot MiniAuto est déjà en cours. Avec ce modèle, car il est de quinze qui composent la longue liste des voitures exclusives faites par Slot MiniAuto pour leurs lecteurs.
Le modèle de cette année est une Ferrari F40 GT Evoluzione, fabriqué en kit de montage par Fly Car Model et assemblé par Revistas Profesionales, avec la décoration "Brummel" qui a participé au Championnat BPR, et en particulier dans les 4 Heures de Jarama en 1995 avec le pilote suédois Anders Olofsson et le italien Luciano Della Noce.
Ce modèle a été limité à 1000 unités et très peu d'unités sont disponibles pour les nouveaux abonnés.