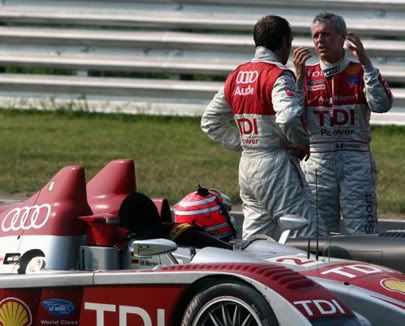 Copyright 2008 Slot Car News Photo
From the ALMS website:


"

American Le Mans Series President and CEO Scott Atherton expressed nothing but praise for Audi following its announcement that it will depart after the first event of the 2009 season, calling Audi's near-legendary accomplishments and technological advancements "the pinnacle of achievement in sports car racing.




Audi's new state-of-the-art R15 TDI sport prototype will still make its debut, however, in the American Le Mans Series. With its new revolutionary clean diesel-powered prototype, Audi will attempt to record its 10th consecutive victory at America's most iconic sports car race, the Mobil 1 Twelve Hours of Sebring presented by Fresh from Florida on March 21. After that, it returns to Europe to prepare for its def
ense of the 24 Hours of Le Mans championship.
The decision to

withdraw from the American Le Mans Series

was a very difficult one," said Dr. Wolfgang Ullrich, Head of Audi Motorsport. "Furthermore, with the Champion Racing team, we also had a partner that operates at the highest level. The extraordinary dedication and precision of Team Champion was the key to Audi's victories over the last few years in America. We achieved an unprecedented winning series together. Our brand dominated proceedings last season by taking seven wins in 11 races.
"