JP Slot
has gotten the attention of slotters on both sides of the Atlantic. Mostly notable in the recent announcements of their products have been the motor. The JP Slot MM18120 Motor is a long can motor rated at 20,000 rpm at 14.8 volts. With this power range it's right in the sweet spot for not only the average homeset racer but the hardcore racer as well. I've put mine in the Ninco Porsche that I race at my club.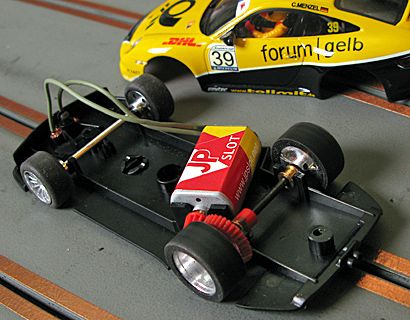 Right off the top when I got the motor installed and started doing some laps you notice that it's got plenty of power and great brakes. It's a direct replacement for a long can motor and with screw holes at the gear end of the motor it's ready to tighten down with 2mm hex screws (provided the chassis you're using allows that in the motor pod).
In the Super Extreme Racing kit (the green wire kit) includes three different types of braid in .05,.07,.10 thicknesses. Also included are two lengths of the 1.5mm diameter wire and a pair of eyelets. I installed the thinnest braid, wires and eyelets and the wires are very supple and easy to work with.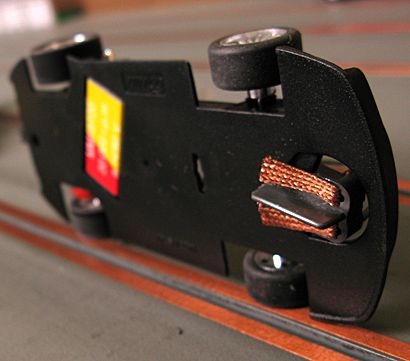 The thin braid (.05) is easy to fluff and east to set. You can see how low the nose of the car sits to my wood track.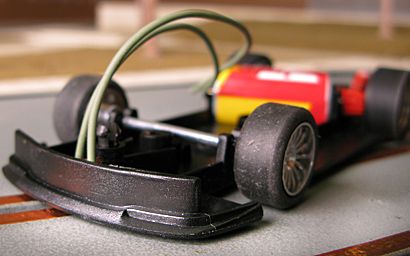 The parts are all low oxygen and
said to be more conductive
. I don't have lap times to back up a claim that they might be faster than stock parts but for me the highlight is not only another niche slot company (the smaller companies tend to push the larger one's forward and that's a VERY good thing IMO), but clearly the COST of the motor is fantastic! The motor is only about 12.00!!!! And the wires, braid and guide eyelets are all very well priced and worth checking out for sure!
Here in the US, BRS Hobbies has them in stock now!
And the wires, braid and eyelets too.
The wire (both 1.5mm and 1 mm diameter) comes in 1meter lengths, certain a good investment at about $5.00 or so.
Motors are something that everyone is looking for, either they want a motor with a certain power level or low cost... this motor in my opinion is certainly just about perfect for most slotters and the cost is perfect as well. I would highly recommend that you check out JPSlot's products.
The products (aside from the kit I used and the motor) can be seen here (click on photo for larger photo).

More info from the JP Slot site:
Motor Specifications: Long can
Closed can
Granted without magnetism (0.1 to 0.3 uhms)
Revolutions: 20,000 rpm at 14.8 V
Torque: 240 gr / cm
BTP005E/32
Super Trencillas Carries far Racing (Soft)
Manufactured in 0.05 mm wire, these braids are specially designed for short tracks and races. Due to their great flexibility and braiding, their optimum working conditions are on very clean tracks.
NOTE: The ideal braid for wooden tracks with iron braids. They enable total penetration of the guide in the lane, allowing the car nose to stay low. Extremely soft but also incredibly hard-wearing, they can be used for fairly short endurance races where not much dirt is accumulated on the track.
BTP007E/32
Super Trencillas Carries far Racing (Medium Hard)
Manufactured in 0.07 mm wire, medium hard braids are suitable for more ordinary use both on the track and for asphalt rally, and when the cleanliness conditions are not so strict. They are soft but also very hard-wearing, and can be used for endurance races and races requiring a good electrical response.
NOTE: The ideal braid for all types of tracks with low-profile cars.
BTP010E/32
Super Trencillas Carries far Wide Double Racing (Maximum Hardness)
Manufactured in 0.10 mm wire, these braids are designed for dirt rally tracks and tracks requiring extreme hardness and durability conditions. For endurance, speed and rally races using flour or sawdust; in the latter case they act as genuine "brushes" for the lanes, cleaning them for the following round.
NOTE: The ideal braid for rally or dirt rally tracks and 4x4 cars and lorries.
BTP015E/24
Braid for 1/24 Plafit cars
Braid for 1/24 Plafit cars, with great wear resistance and hardness and designed by the Denia Club Marina Alta people. Special braid for endurance racing.
Oxygen-free copper braid
for wooden tracks, providing greater speed for cars of all scales and preventing magnetism, giving priority to the driver's skill.
Contact terminals
manufactured in copper instead of the traditional brass. They provide excellent contact, favouring electrical conduction. The combination of our braid, cable and terminal products provides a considerable improvement in electrical performance for top-level competition and for home users who are looking for excellent features.