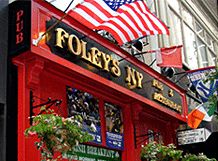 Beer specials and slots?
YUP! This one's for the adults out there in the NYC area.
Foley's NY Pub & Restaurant
will be having a series of slot races, the first race will be November 10th from 6pm-9pm with the SCX Digital system. This sounds like fun and maybe we can get some slotters out there to go and maybe take some pix of the folks enjoying the races!
Racing will continue in January on each of the Sunday's with "qualifiers" with a Championship race to be held in February with a date TBA. Each night prizes will be awarded for the qualifiers. Prizes for the final Championship race will be an SCX Digital Set, Analog set and, of course, cars, cars, cars for prizes too!