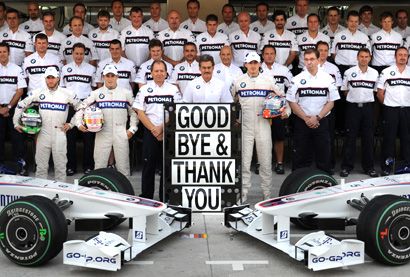 With so many of the high profile teams leaving F1 it makes you wonder how long it will be before it's only Ferrari and McLaren out there racing against each other...

A statement by Toyota about F1:
"Toyota Motor Corporation (TMC) announces it plans to withdraw from the FIA Formula One World Championship at the end of the 2009 season," said a statement released by the Japanese car manufacturer.
"TMC, which had viewed its participation in F1 as contributing to the prosperity of automotive culture, remained dedicated to competing at the pinnacle of motor sports, even in the face of the abrupt economic changes that started last year.
"However, when considering TMC's motor-sports activities next year and beyond from a comprehensive midterm viewpoint reflecting the current severe economic realities, TMC decided to withdraw from F1."
Bridgestone too is leaving as tire supplier.
From the Bridgestone motorsport website:
Bridgestone Corporation today announced that it will not enter into a new tyre supply contract with the FIA Formula One World Championship (F1) series; the current contract is set to expire at the end of the 2010 season.
In addressing the impact of the continuing evolution of the business environment on its decision, the company focused on the need to redirect its resources towards the further intensive development of those innovative technologies and strategic products which support the company's goals and further enhance the company's reputation as a technology leader.
Over the years, the company has benefited directly from its involvement in Formula One racing. The lessons learned through Bridgestone's successful participation have translated into innovations that can be applied to the design and manufacture of high performance tyres. In addition, its collaboration with F1 has contributed to increased brand awareness and the recognition of Bridgestone as a leader in the global tyre industry.
Having achieved these goals, Bridgestone is now poised to take its technological and brand building efforts to the next level. Bridgestone is committed to supporting F1 and the series' teams through the completion of the 2010 season. The company also expressed its sincere appreciation and gratitude to the management of Formula One, the F1 teams and support staff, and the F1 fans around the world for their enthusiasm and support for Bridgestone over the last 13 years."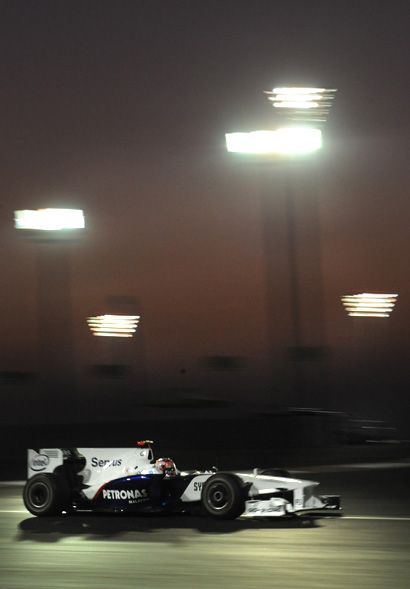 And with rumors swirling about whether Renault will return they made this annoucement recently...
"The Renault F1 Team is delighted to announce the signing of a three-year partnership with TW Steel, the Dutch watchmaker, which will become the official timing partner of the team."
At least for the time being Renault seems to still be in the F1 business.