A cool new app for your Iphone or your Ipad! Slot cars have gone beyond "only" the slot track at least for this app!
Downloads:

http://itunes.apple.com/us/app/htr-hd-high-tech-racing/id379482324?mt=8

http://itunes.apple.com/us/app/htr-high-tech-racing/id378142900?mt=8
A review:

http://dailyappshow.com/htr-high-tech-racing
From the HTR website: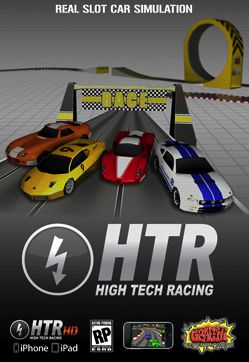 High Tech Racing is a Slot Car Racing Simulator, a virtual version of the classic toy of the 80´s and 90´s. HTR offers 3 different difficulty levels and 18 tracks that include several challenges like loops, jumps, crossroads, narrows and high speed curves. You can even build your own tracks with the highly intuitive Track Editor. Choose from 3 in-game visualization modes, from 3rd-person perspective to in-car camera.
With realistic physics, HTR offers an adrenalin packed racing simulation experience.
With only one finger you control the acceleration to keep your car on the track.
Tons of cool items to unlock including cars, electric engines, tires, and chassis to optimize your car; there are 243 possible configurations to test on each track.
Race freely on "Quickrace" mode and practice for the real challenge.
Send your best race times to Phatyaffle and see your time in comparisson to the others players around the world. Keep your records updated and prove you are the fastest on all tracks.
Key Features: Platform:
* Real Slot Car simulation
* More than 240 possible car configurations
* 18 tracks in 3 different difficulty levels
* Quickrace mode for casual gaming
* Intuitive Track Editor
* Online records
* Simple controls - simply slide one finger to control your acceleration
* Several challenging tracks with loops, jumps, crossroads, narrows and high and low speed curves.