Nick from SuperTires
was gracious enough to send SCNews a few sets of his fine silicone tires. These tires are very familiar to many slotters in the US but maybe not to some around the world.
From the
SuperTires website
:
"Tear up the competition not your tires"
-Aerospace state of the art material.
-Made in the U.S.A.
-10 times the tear factor of other rear racing tires.
-Different profiles allow for minimum air gap under the car chassis, for maximum performance in turns.
-Different sizes, colors, and compounds designed to fit your cars needs.
-Satisfaction Guaranteed..
A number of questions have come up recently on the various message boards about which type of SuperTires fit the new SCX Nascars. The
#1008
seem to have just about the perfect combination of sidewall height and tread width. In testing these tires slipped on well and really improved the performance over stock tires on our various wood tracks (painted with flat latex paint).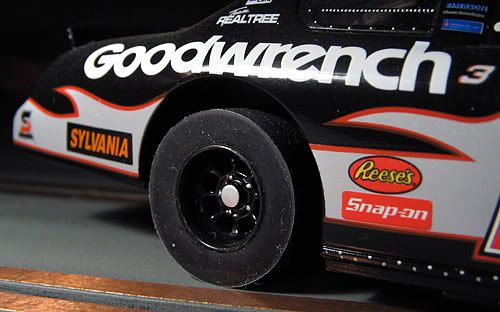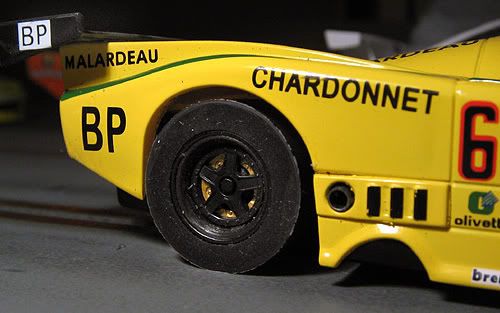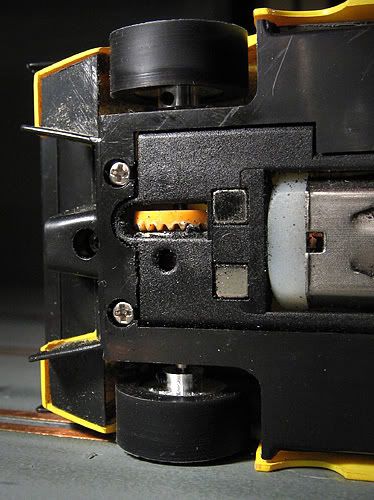 Compaired with the stock tires that come on the Slot It Lancia "Malardeaux", the larger diameter
#1404
fill out the wheel well better than the lower profile tires. This car should have very large diameter wheels on the back, so putting large diameter tires somehow feels appropriate...even if it's not technically correct.
The tires are just a bit narrower than the stock tires but because of that allow much easier access to the set screw on the wheel.
To get the best from these tires you need a clean track...a really clean track. In extensive testing they work best after the track has been wiped down and then for the first laps around the track use the adhesive side of a mailing label to clean the tires.
Until very recently I've used Ortmann tires exclusively on almost every car I have. These tires, for many applications are superior. They have more predictable break-away characteristics and are as round as you'd want any tire to be ever! They're so concentric in fact, you might find out that those metal wheels you thought were round are now just a bit more wobbly than you might want to believe.

At this link you can find where they're distributed.
DaveK