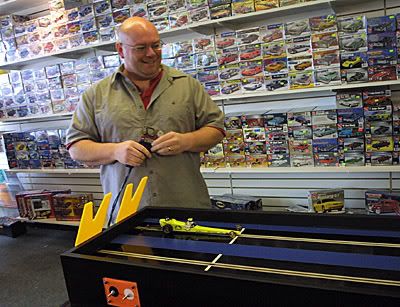 On the drive back from iHobby I decided to make a stop along the way... ok, 2 stops. I was invited to visit a commercial track owned by Bill Curtis in Belleville, Michigan at
TSS Hobbies
. Bill and his buddy Nick gave me a personal invite and said I must stop along my way home and I had to take them up on it.
I had a great time at the shop, a huge track with massive banked turns was just the ticket for my BRM Porsche... it was great running the car wide open about the turns! I was lovin' the digs at Bill's new store. A scale quarter mile drag strip for HO and a scale quarter mile for 1/24 as well as the large, twisty road course and a large tri-oval as well... what's not to like! Not to mention the HUGE selection of plastic models Bill has on hand too! Ya gotta love a slot shop that's ONLY a slot shop!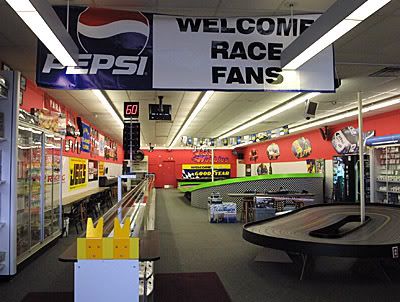 A fun, friendly, well laid out place to hang out and talk and race slots... what a great place.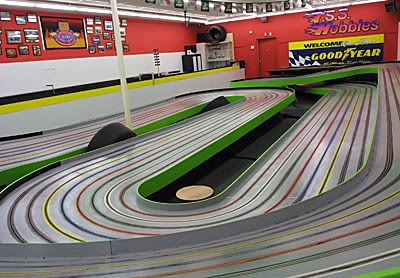 Here Bill puts a top fuel slot car on the track and storms down the track. Very cool!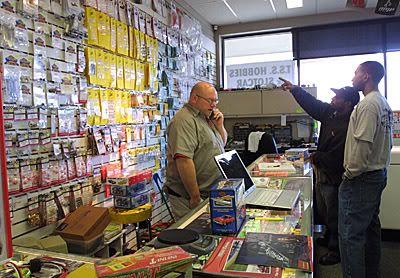 And after an afternoon of racing and a great time discussing slots the guys said it was time to visit The Professor... yes, that's right
Professor Motor
in nearby Livonia. Well if you don't know about Professor motor than it might be hard to impress upon you what a thrill it was visiting the place that's a one-stop-shop for hardcore slot car folks. Need a slot motor... need OLD mix Ortmann tires? Well Andy's got 'em!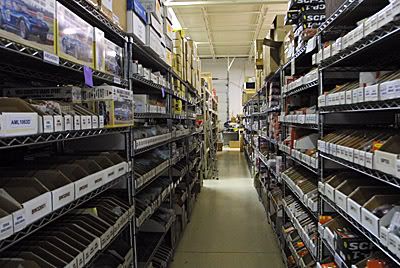 And here's the man himself, Andy, the Professor himself! He's feelin' good (which we're all glad to hear) and loves to talk slots. He gave us the 10-cent-tour which during which we snaked around the shelves which were packed with slot-car-goodness. Of course being a complete Ortmann tire nut I was transfixed by the selection of tires he has on hand... evidently so much so I forgot to shoot the boxes of tires he had just to show the tons of tires he's got on the shelves. Suffice to say it...was... COOOLLL!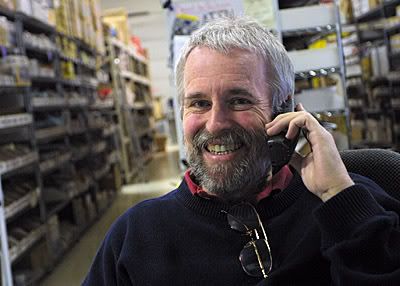 So thanks Bill, Nick, and Andy for the hospitality!
TSS Hobbies.com is in Belleville Michigan.
Bill Curtis, owner.
tsshobbies@yahoo.com
2055 Rawsonville Rd. · Belleville, MI 48111
734 · 487 · 8410