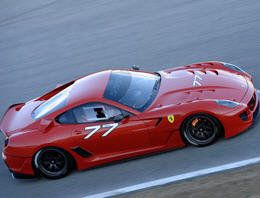 Today Felipe Massa was the main protagonist on the last day of the Ferrari 599XX's activities with its debut on the track. The Brazilian driver, who will be busy as of tomorrow in the first official Formula 1 test session this season held at Valencia's Ricardo Tormo circuit, met the clients, who, by purchasing the non-homologated sports Berlinetta, planned exclusively to use on the track, participate in the exclusive programme bearing the same name.
After several laps on board of the car Felipe said: "I really enjoyed testing this car, I think it's extremely powerful and has an exceptional stability. Considering that it has been planned for the track it's really easy to drive."
The clients showed great enthusiasm for the Ferrarista sharing the debut of this exceptional car: they now have a series of events ahead of them Ferrari will organise on race tracks in America, Europe and Asia, including the Finali Mondiali. Just like in Valencia on these occasions the cars will be taken care of by the team of official technicians, able to guarantee the necessary support and assistance.
From the Ferrari Facebook page.