Slot cars with lights are neat. Slot cars with flashing lights are even better but this Hi-way Patrol car had troubles catching some of the race cars on the track so an upgrade was in the works.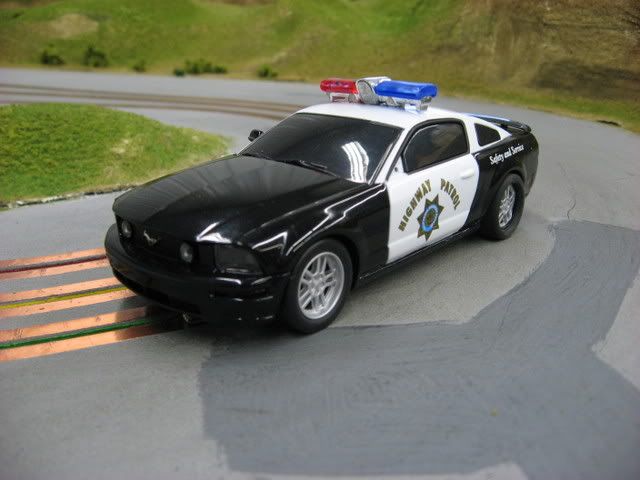 The plan to transform this car into a rocket needed three things: a higher rpm motor, bullet proof drive-train and wider wheels with silicone tires. The stock motor was replaced with a Slot.it 25k and a Slot.it 28t crown, 9t pinion and axle finished the drive-train. Slot.it 19x10 plastic wheels with 20x12 S1's were used on the back end. The wheel inserts came from turning down the original wheels. Additional lead was added to keep the guide planted in the slot and provide stability on the track.

Now the modified Carrera Hi-Way Patrol goes to the track to try and run down a Carrera Porsche 935/78. Both cars weigh a hefty 107 grams. The Porsche 935 is all stock except for Ortman rear tires, a Slot.it guide and lead weight added near the guide.

On the track, both cars run very close making cat and mouse sessions very entertaining. The Hi-Way Patrol edged the Porsche 935/78, 12.350 to 12.373 seconds.
BUSTED!