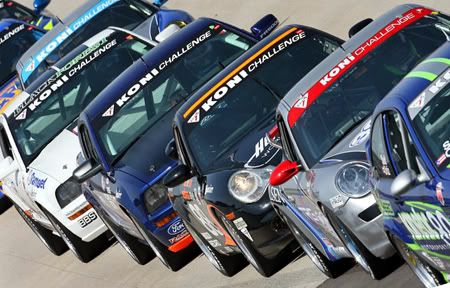 NEWTON, Iowa
(April 20, 2007) -- Andy Lally posted a best lap at 50.176 seconds (93.272 mph) in the No. 41 Carlsen Porsche/Mitchell Global Porsche 997 during Friday's Grand-Am KONI Challenge Series test day at Iowa Speedway to top the time charts in preparation for the inaugural KONI Challenge event on the 1.3-mile road course on Saturday.
Lally, the defending Grand-Am Rolex Sports Car Series presented by Crown Royal Special Reserve GT co-champion, is sharing the No. 41 machine with Ted Ballou as part of a four-car effort for the TRG team. The No. 41 machine was the quickest of 33 Grand Sport (GS) class cars to participate in the test day.
"The track is a tight and twisty road course that's going to make for some exciting racing come tomorrow," Lally said. "The whole TRG crew and all of our cars are running fast. To put up fast time of the day was really pleasing, I'm sure, for (team owner) Kevin (Buckler) and the guys after all the hard work they've done to get these cars ready for the season. The guys have been in the shop a lot of hours and working their butts off. It was a wonderful way to end the day today, and hopefully we can finish up tomorrow the same way."
Second-quickest on the day was Jeff Segal in the No. 09 Fresh From Florida/Automatic Racing BMW M3 with a lap at 50.206 seconds (93.216 mph). Segal is sharing the No. 09 machine with Jep Thornton. Boris Said was third-quickest at 50.251 seconds (93.132 mph) in the No. 80 Said Head Performance/Kinetic Motorsports BMW M3 he is sharing with Bryan Ortiz. The No. 20 Horsepower Ranch Porsche 997 shared by Ross Thompson and Hugh Plumb was fourth at 50.323 seconds (92.999 mph), and the No. 49 Marcus Motorsports Porsche 997 of co-drivers Spencer Pumpelly and Jimmy Locke completed the top five at 50.324 seconds (92.997 mph).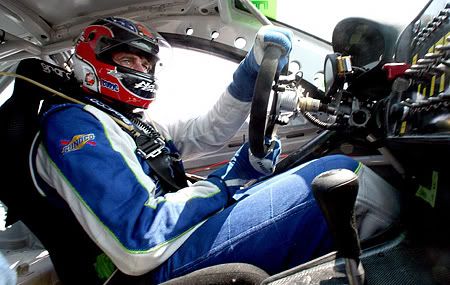 Boris behind the wheel.
Eric Curran turned the quickest lap of the day in the Street Tuner (ST) class at 51.813 seconds (90.325 mph) in the No. 01 Scada Pack/Georgian Bay Motorsports Chevrolet Cobalt. Curran is sharing the ride with Jamie Holtom, with whom he co-drove to a class-leading four ST victories last season. However, Curran and Holtom enter Saturday's race still looking for their first KONI Challenge Series win this season.
"The track is a lot of fun," Curran said. "It's a nice new facility. It's good to be here in Iowa. I've never even been in the state before I don't think. Figuring out the track isn't that bad. We're getting it sorted out pretty quickly. We're struggling a bit with the car, and we're a little bit down on straight line speed here to a lot of the other cars. It seems very important to draft other cars, for sure. I ran the quickest lap in a three-car draft in front of me. I think that might be key to this race. These guys are working like crazy on this Scada Pack Cobalt, trying to make it the best it can be for the race. We'll see what it brings. I don't think we have the fastest car here, but maybe the draft and being smart will be the key."
Second-quickest in ST was Kuno Wittmer in the No. 31 Acura/Cobalt Friction/Alpinestar Acura TSX with a lap at 51.954 seconds (90.080 mph) he is sharing with Nick Wittmer. Guy Cosmo was third-quickest in class at 52.116 seconds (89.800 mph) in the No. 127 Fountain Motorsports BMW 330i he is co-driving with David Tuaty, followed by Travis Walker at 52.191 seconds (89.671 mph) in the No. 76 Compass360.com/Skunk2/Hawk Brakes Acura TSX. Walker is sharing the car with Beau Buisson, and led a pair of Kensai Racing Acuras in the ST top five. Fifth-quickest was Karl Thomson at 52.208 seconds (89.641 mph) in the No. 76 Compass360.com/Skunk2/Hawk Brakes Acura TSX. Thomson's co-driver is Billy Johnson.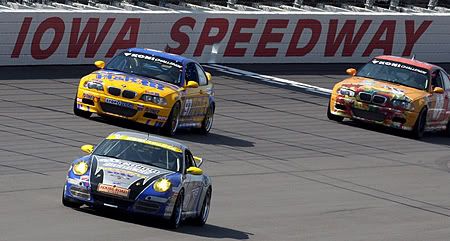 The Grand-Am KONI Challenge Series has a full day scheduled at Iowa Speedway on Saturday, with practice and qualifying for both classes between 8:30 and 11:15 a.m. CT. Round 3 of the 12-race 2007 KONI Challenge ST series takes the green flag at 12:00 Noon for a 192-lap race that will be subject to a two-and-a-half hour time limit, followed at 3:30 p.m. by Round 3 of the KONI Challenge GS series at 3:30 p.m., which is also a 192-lap race with a two-and-a-half hour limit. Live Timing & Scoring data and audio webcasts are available on the official web site of Grand-Am,
www.grand-am.com
.
----------------
News and photos used with permission of the Grand American Series.