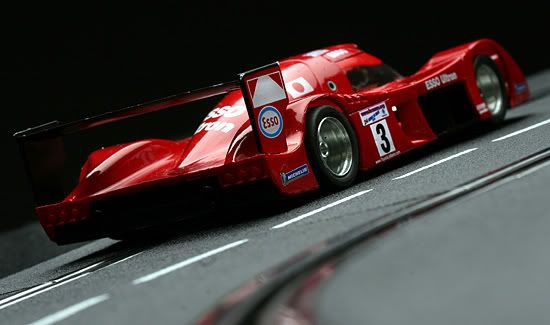 Ok, I admit it, I had GT1 envy. My uncle had purchased a pair of Toyota GT1's made by ProSlot a while ago. I hadn't thought much of the ProSlot car, but that was before I saw they beauty in those thin bodied, crimson rockets that now are just about impossible to find...that is unless you're willing to pay a premium price for a car that needs to be totally rebuilt to be competative. Not so with the MRRC Toyota GT1...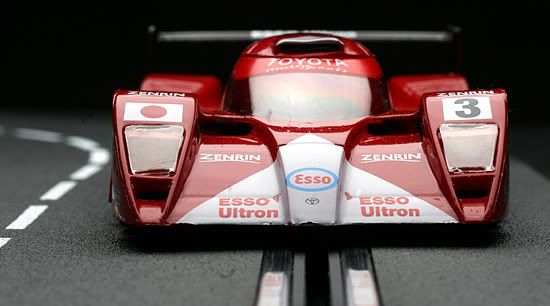 ...it offers slotters excellent performance in a familiar package. The ProSlot Toyota GT1 was the basis for an excellent racer, but the car had many faults with the quality of the chassis, wheels and very basic motor pod design, the MRRC version has none of these shortcomings however.

Where the MRRC GT1 does look a bit of rough around the edges is well...around the edges. The copy that Slot Car News received for review had flash around many of the edges of the body and rear wing. Some areas of the molding on the top of the body were a bit rough as well and some areas of paint had some "orange peel". And on the nose there were a few areas where the decals appeared to have small bits missing. But since this car is supposed to spend more time on the track than sitting next to it, I doubt whether serious racers will care much about a few rough areas in the finish of the car. And personally, soon I think those will be the best areas on my car since I'm thinking this slot car will see more than its share of track time.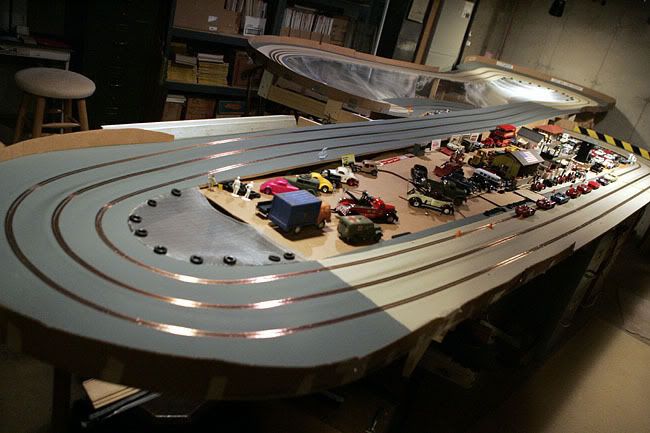 I wasn't sure how this high-torque motored slot car would do on my short wood track because often slot cars with higher revving motors or high torque motors overpower my 21' track. But this car with the great brakes the motor has was easy to drive even with only an 8' straight. With the stock tires the car wasn't able to lap my track very quickly but when I changed to Ortmann tires the speed of the car improved drastically.
After my track I took the 82-gram car to the East New York Raceway (which is the photo included here) the car showed the qualities that you'd like to see in a fully tuned slot car, but this car did it being out-of-the-box. For testing at ENYR we used Ortmann tires for 19x10 Slot It wheels and SuperTires (#1402). The Ortmann's got the lap times down to around 5.3 seconds, which is fast but not as fast as we'd hoped. But with the Silicone SuperTires times dropped to a very speedy 5.190 lap time. And all this with nearly no tuning except a turn out each on the motor pod screws and oiling the pod where it's appropriate.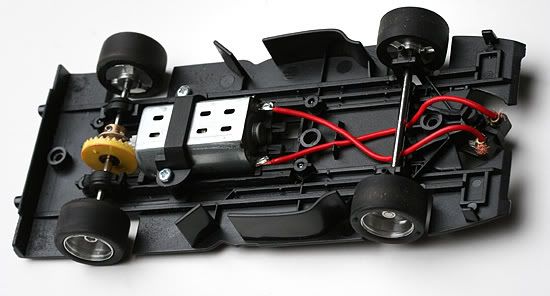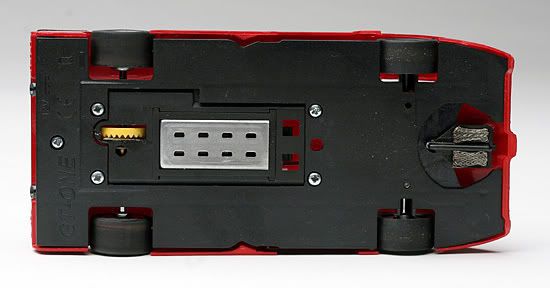 The 20k Scale Auto silver motor has fantastic acceleration and even better brakes. This car with this motor is very easy to drive, you can really get fast times out of this car very quickly mostly due to the brakes that allow you to stop immediately if you feel yourself getting into trouble... a very forgiving car. This is the type of car where you can
find the speed rather than hold the speed back
, a great characteristic in a slot car, especially for a newbie slotter. So yes this is a blindingly quick car that would be a good car to learn on (a rare breed indeed!). By "finding the speed" I mean that it's not so overpowered that you have to go slowly through the corners at less than half throttle or less, with this car you can keep the speed up nearly at full throttle much of the lap (or at least I could during the testing session).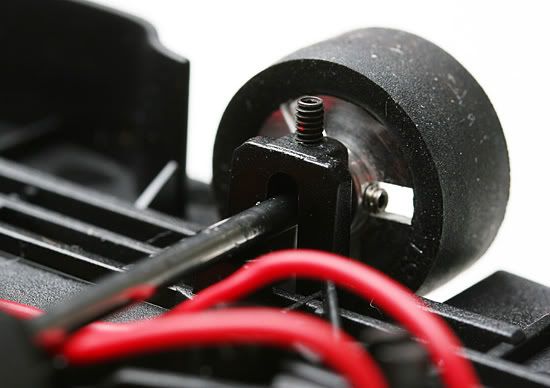 By now most have seen the front axle adjustment screws, and frankly I hadn't thought that this type of front axle adjustment did much, but with a few turns of the screws the front axle as firmly planted on the track and the car did feel much more stable in the corners. This is a good feature that I'm guessing will find it's way into many upcoming releases.
A comparison of the slot car and the real car.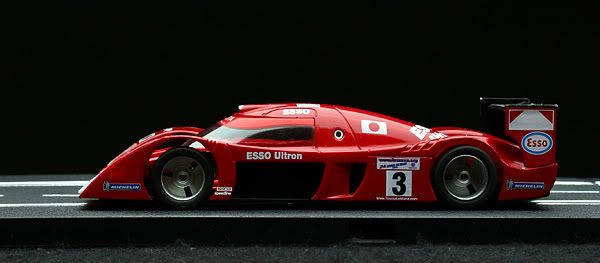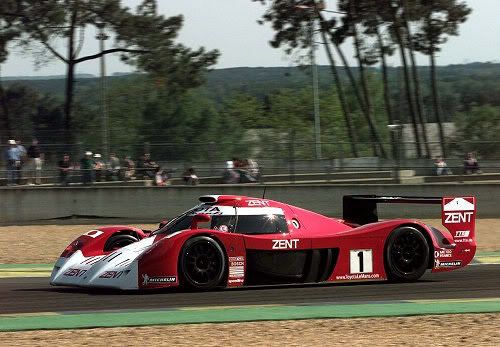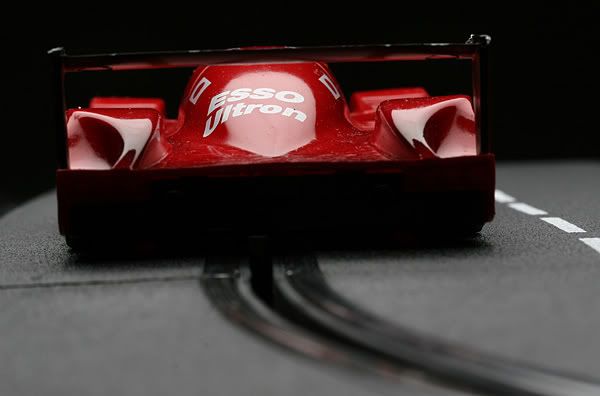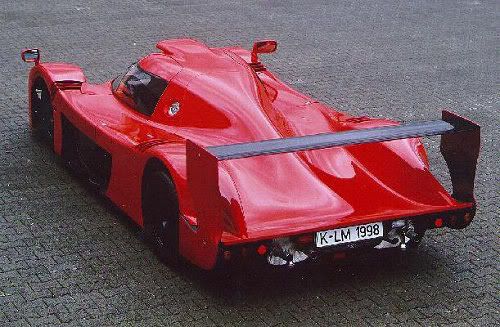 There are different ways of looking at different cars. I believe that this car, even with the few cosmetic blemishes it has will find it's way to being a staple car of anyone that is drawn to that distinctive flying wedge shape. MRRC has resurrected a classic slot car, they've vastly improved on the car as it was. And what they have given us a great starting point for either a highly modified car, or a serious out of the box winner.
A big thanks to John at MRRC for sending the car!
DaveK