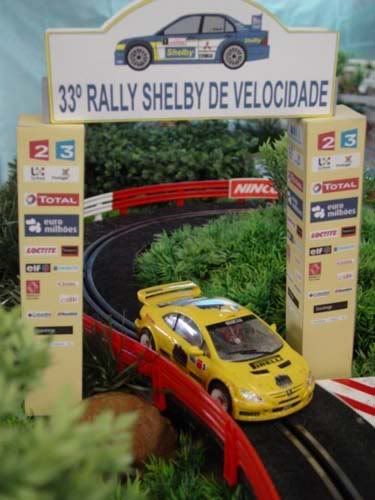 Luis Carlos Cardoso from
Shelby Modelismo in Sao Paulo Brazil
emailed me the other day, he's got quite a nice track and club there in Brazil. This is qhat GSR Magazine said about the club in the Oct. 2003 edition:
"The scale 1/32 slot racing movement is led by pioneering club Shelby Modelismo. This club organizes one of the most longest lasting series of 1/32 slot car championships in the world. Shelby maintains a real focus on realism. The cars must be in nearly perfect 1/32 scale (Replicas), with a hard body, wheels and rubber tires that
duplicate the originals, and detailed driver, etc. In other words, true
miniatures of the 1/1 vehicles, slot racing style."

"The goal was always to emphasize, insofar as possible, the realism and
perfection of the model, all the way to the " pure replica " (only for real
enthusiasts and real purists)."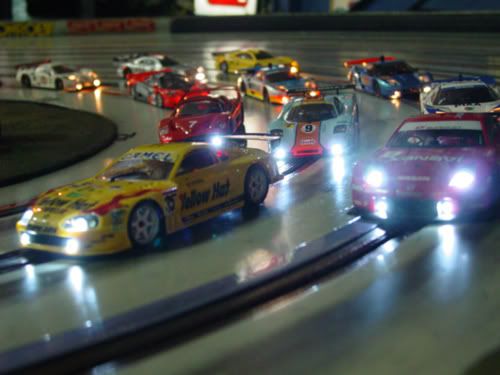 Uno de los padres de nuestro hobby en todo mundo, vive aún la emoción de la practica en lo clube Shelby Modelismo
Sr. Evaldo , freqüentador del club , com sus compañeros .
Uno de los padres de nuestro hobby en todo mundo, vive aún la emoción de la practica en Shelby Modelismo (Brasil).
Sr. Evaldo de Almeida, mas de 70 anõs, uno de los creadores del slot en los finales de la decada de 50 y início de 60 , uno de los pioneros mundiales , figura historica de lo hobby, Lo maior responsable por lo "autorama" brasilero, y que continua activo en su pasión por las replicas 1:32, em mas de cincoenta años de dedicación.
- Quiero siempre vivir con los "autinhos"( es como Evaldo nombre los mini coches ), y en lo clube Shelby encontro lo verdadero entusiasmo y essência -, declara lo creador..
Viva las replicas! Viva lo hobby! Viva los creadores! Viva Evaldo!
In English:
Mr. Evaldo, frequent partner of the club, with friends.

One of the parents of our hobby in all world, still lives the emotion of practice in the Shelby Modelismo (Brazil).

Mr. Evaldo of Almeida, more than 70 years old, one of the creators of the slot in the ends of the decade of 50 and begin of 60, one of the world pioneers, figure historical of the hobby, The most responsible by the "autorama" Brazilian, and that continuous active in your passion for replicas 1:32, in more than 50 years of dedication.

- I always want to live with those "autinhos" (it is as Evaldo it names the mini cars), and in the Shelby club I see the true enthusiasm and essence. -, Evaldo declares .

Alive the replicas! Alive the hobby! Alive the creators! Alive Evaldo!
Obrigado, Luis for emailing me, you've got quite a club there!
Dave Kennedy
Slot Car News