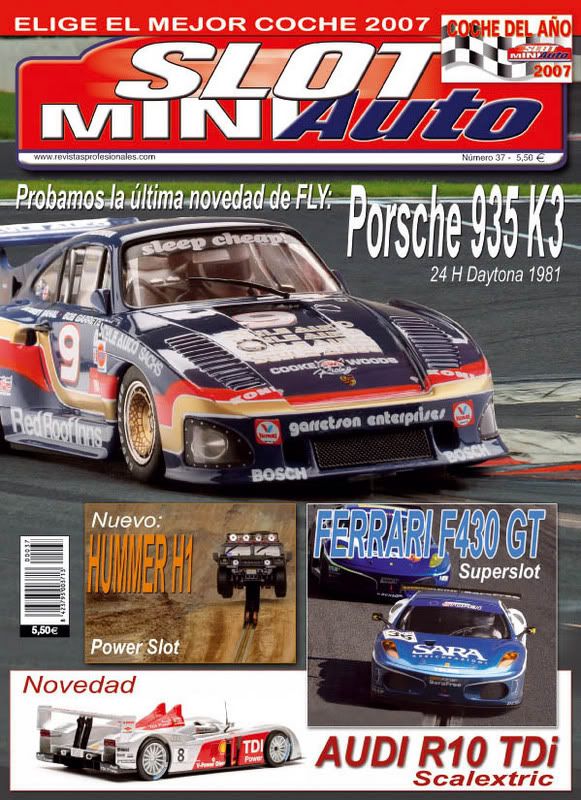 SLOT MINIAUTO 37 – NOVIEMBRE 2007
El nuevo Porsche 935K3 de Fly Car Model es el protagonista principal en la portada de Slot MiniAuto del mes de noviembre. En ella también se destaca la prueba del nuevo Hummer H1 de Power Slot, el Ferrari F430GT de Superslot y el Audi R10TDI de Scalextric. Además en el interior, también se puede encontrar las pruebas del Renault Clio de NSR, el Renault Alpine A110 de Scalextric y del Chasis Titanium 5 de MSC.
La sexta edición del Concurso Coche del Año marca el fin de curso 2007 con la lista de todos los candidatos a este premio.
A la venta a partir del 30 de Noviembre.
SLOT MINIAUTO 37 – NOVEMBER 2007
The new Porsche 935K3 Fly Car Model is the main protagonist on the Slot MiniAuto cover of November. It stresses the track test of the new Power Slot's Hummer H1, the Ferrari F430GT of Scalextric and Audi R10TDI of Scx. In the inside pages you can also find the testing of Nsr Renault Clio, Renault Alpine A110 of Scx and Chassis Titanium 5 of MSC.
The sixth edition of the Car of the Year contest marks the end of 2007 with the current list of all candidates for this award.