...and there was much rejoicing!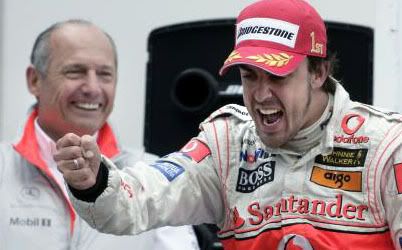 Photo and news used from McLaren.com, no reuse
Following an appearance by McLaren today at the FIA World Motor Sport Council in Paris, a unanimous decision has been taken by the FIA which in McLaren's opinion is very balanced and fair. McLaren accepts the that the FIA World Motor Sport Council had no alternative other than to find that there was a purely technical breach by reason of the possession of certain information by one individual at his home, without McLaren's knowledge or authority. McLaren is delighted that the World Motor Sport Council determined that this information was not used and accordingly imposed no sanction whatsoever on the team. McLaren looks forward to continuing its fight in what is the most exciting Drivers' and Constructors' World Championship in many years.
RON DENNIS, CHAIRMAN AND CEO, McLAREN GROUP: "There is no doubt that the past 24 days have been challenging and the tremendous support we have received from our sponsor partners and the public has been much appreciated. Moving forward McLaren wants to re-affirm our long-standing commitment to honesty and integrity and re-state that we believe we have acted correctly throughout. Now, we have Formula 1 World Championships to win. As a result we intend to move on, so as to maintain the focus and commitment required to do exactly that."
FERNANDO ALONSO: "Having only been part of McLaren for a few months I know how important today's decision will be for everybody. I am looking forward to an exciting second half of the season and to continue our battle for both World Championships."
LEWIS HAMILTON: "Whilst it's only my first season in Formula 1 with the team, I already know and appreciate the commitment and dedication of the people there. As a result I am pleased with today's decision and can't wait for the rest of the season."
And this from AFP....
f1
mclaren
ferrari