The first 2 Carrera RSR's are now shown on the Carrera site. They will be the Tafel Racing and the Flying Lizard Motorsports cars. Both are technically liveries from the first race of the year at Sebring.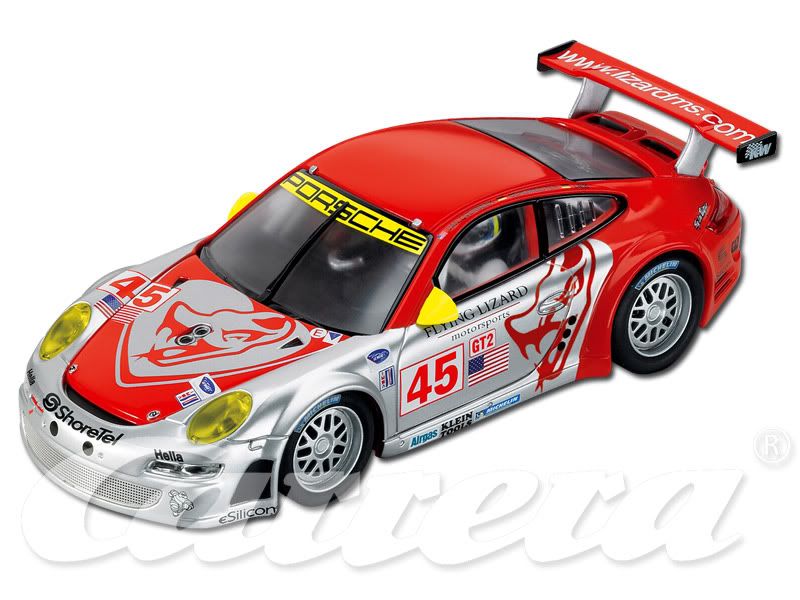 My photo from Lime Rock ALMS race to refer to.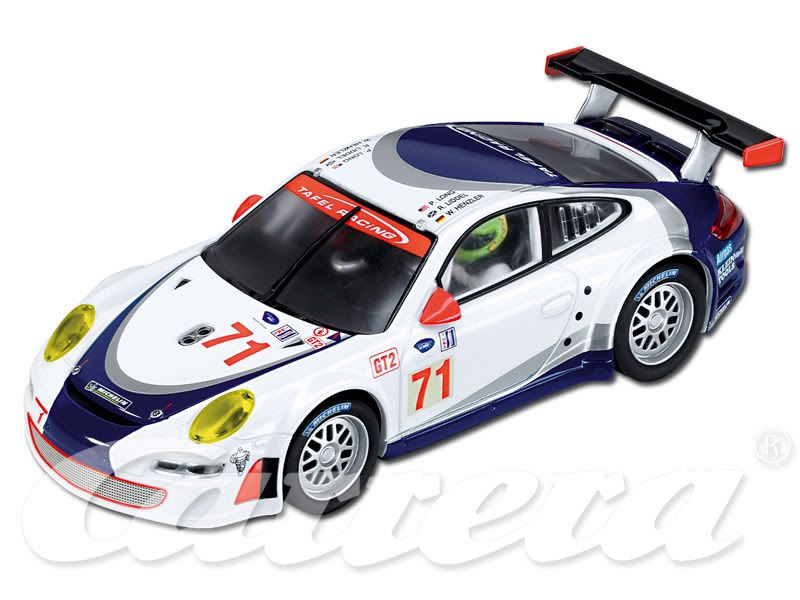 There are minor differences from these photos compared to photos of the real cars, since Sebring Tafel racing has made changes to the nose of the car. They've had a custom nose molded with 3 sets of dive planes, just below the headlights). The Flying Lizard team has made additional dive planes on the nose as well (one each under the headlights) but they've kept the stock nose that came from Porsche.
I talked extensively with a mechanic for the FLMS team, who said that the regulations set down by IMSA do not allow any modification to the fender flares to make them larger, or to change the contours in any way. And there cannot be any aero mods done to the body.
So the body shape must be this exact shape on EVERY model of a Porsche 911 (997) that runs in the ALMS series regardless of which team it is. So there is no wider, more flared out car to model to gain an advantage for your slot car . . . too bad, eh?
Also a few other things worth noting about these cars, not exactly related to slot cars but I found them interesting. The teams do NOT do ANY work on the engines . . . none! The engine is tuned, and if need be, replaced by Porsche. The team will do the removal of the engine but NOT any of the work repairing the engine if it needs a tune up or major overhaul. Also they really don't own the engines as such. Further, Ferrari teams don't own the engines at all! They're technically leased from Ferrari and returned to Ferrari after the season, or if they need to be replaced.
I've been told the slot cars will be shipped somewhere around September.
-------------
A little Q&A with the VP of Marketing (photo inset) for the Flying Lizard Motorsports team. I interviewed Jennifer Hart the morning of the American LeMans Series race at Lime Rock Park, in preparation for the announcement of these cars.

How do you look at slot cars? Do you look at them as collectibles, as toys?
My experience with them is that the demographic for sportscar racing, the younger demographic, usually have grown up with slot cars, they race them. It's not just a toy for them, they take them seriously. For us, from a marketing perspective, my objective is to get as many people out there aware of Flying Lizard as we can, and with the popularity of slot cars, having Flying Lizard represented is important.

Do you find that a lot of your fans know about slot cars?
"Oh, yeah absolutely, there seem to be two groups. The older, more mature group who grew up with slot cars, and the younger group . . . who take them very seriously."
On the topic of setting up a slot track last year during race weekends for a promotion:
"I was a little bit naive about our slot car knowledge, when we got a set and we thought we knew how to run it, but we didn't realize how complicated it was so had to get some fans to help us. They gave us a lot of tips on how to optimize the cars, the setup of the cars, which seemed to be as complicated as our race set up. So I'd say most people really do have a knowledge of the cars. What I really like about them is that they're very tactile, they're very visual, and when people see them they really want to race them. For the younger kids I think it's play. For the older kids I think it's serious."
On the topic of the US market:
"I really think there's an opportunity, just based one what I've seen, I think there's a marketing opportunity, especially for the smaller ones" (meaning a smaller scale slot car than 1/32).
Dave Kennedy
Slot Car News