The following excerpt from a review is from Home Racing World and was written entirely by Harry Wise.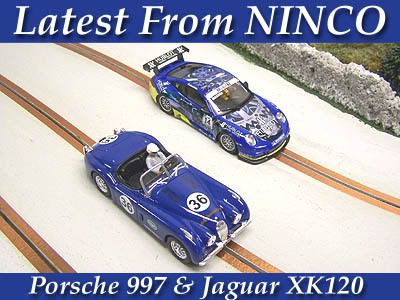 The very latest releases from NINCO have arrived here safe and sound from MRC. Of course, each of these slot cars are vastly different from one another mechanically speaking, but they do have one thing in common: Their new home! So let us welcome these new additions HRW style.
One of the many great things about our 1/32nd scale hobby today is the wide selection we have to choose from. From high speed magnet racing to milder classic action, we pretty much have it covered. NINCO is one of the companies that help bring us this variety and I for one appreciate it.
The Porsche 997 GT3:
The Porsche 997 GT3 model is nothing new aside from the paint. We have reviewed this car several times so I will point you to
our NINCO Review Archives
instead of repeating ourselves here about the inner workings of the car.
The paint work here is fantastic. This is a car that really catches your eye to say the least. The Tampo stamped detail of the watches on all sides is just wonderfully executed. You can see all the little details quite easily.
The sharp contrast of the blue with the yellow rear trim I also liked. Is it perfect? Of course not. The car has a few scale issues when compared to the prototype photo NINCO themselves has posted. The mirrors are the wrong color as well as the front spoiler not being fully yellow. It also appears the wing should have been blue.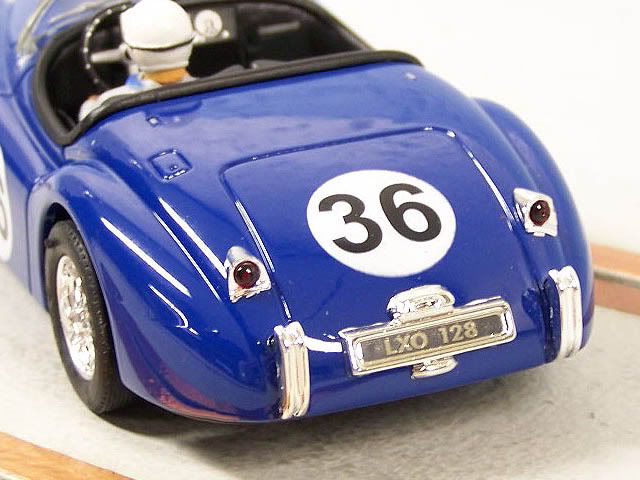 The Jag:
The classic line by NINCO is by far my favorite. Mild mannered little cars that not only look good but deliver some of the most satisfying slot car racing I have had in our hobby. Does everyone think that way? Of course not. Not everyone likes these slower machines, especially when most of them are non-magnet. However, these cars have been around for quite a few years and over time they have proven themselves to many slot car enthusiasts
This latest addition is different from the older versions, so those who collect AND race these cars be warned. The body itself has not changed although the clear-coat used today is much better than that of years past. In this regard, NINCO has stepped up it's game. The livery chosen though attractive, is not very accurate according to prototype photos.

Please read the full review at this link to Home Racing World.