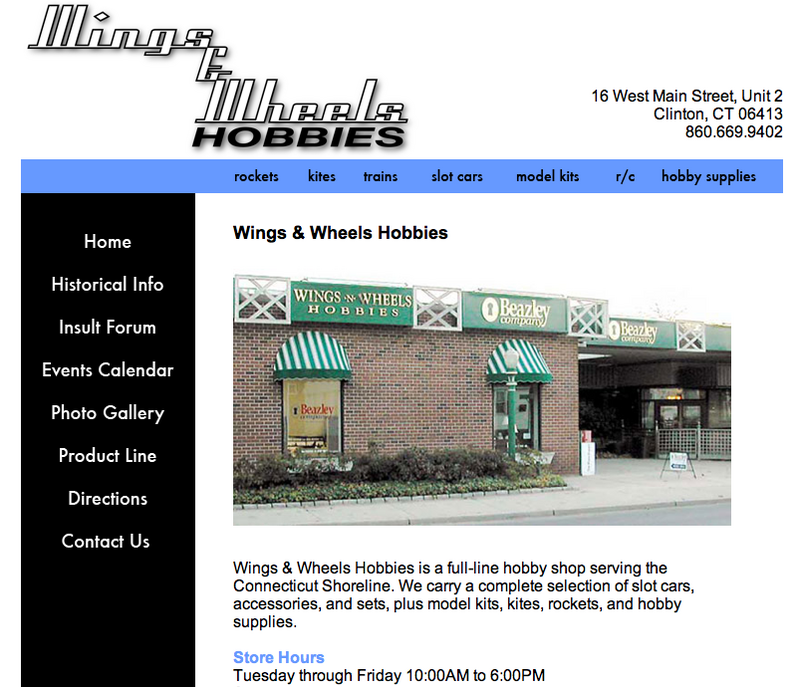 I received a sad email today....

From slotbrother Barton Brown:


Wings & Wheels Hobbies will cease operations at 16 West Main Street, Clinton, CT, as of Friday, September 5, 2008.
The day of the downtown "mom & pop" hobby shop -- and many other discretionary income outlets -- is over. We simply can't compete with online retailers who have little or no overhead; and in a state with among the highest mortgage foreclosure, auto repossession, and gas prices in the nation, not that many people seem motivated to run down to the local hobby emporium waving fistfuls of cash and screaming for new toys. I just can't understand why...

The following discounts apply to in-stock items only...
We'll be having a series of Customer Appreciation sales, starting at 20% off everything in the store, from today, August 5, 2008 to Friday, August 15.
From Saturday, August 16 to Friday, August 22, the discount will be a magnanimous 30%.
From Saturday, August 23 to Friday, August 29, the discount will be a staggering 40%
From Saturday, August 30 to Friday, September 5, the discount will be a heart-stopping (mine, anyway...) 50%
To contact Bart:
wingswheels@sbcglobal.net or 860-669-9402