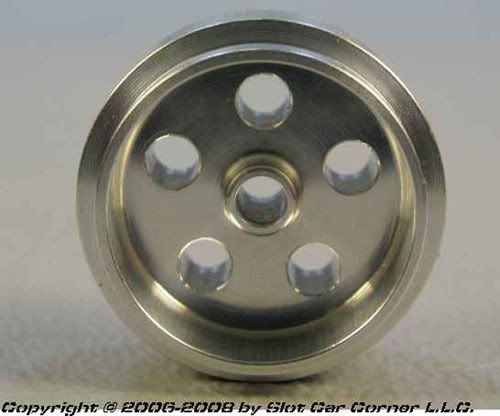 SuperWheels...got 'em yet?
Well you need to if you don't. Steve's wheels are the simply fantastic. They slip on the 3/32 axle and they feel so solid, so precise they're just great. I got to really test some on my Porsche RSR yesterday at my club track (which has about a 20' straight and I'm impressed. I'm a huge fan of Porsche's and as any Porsche-slotter knows there's precision little room up front on most slot cars, even less-so on most all slot Porsche's. This slim wheel fits really, really well and doesn't hang outside the body at all on the front of my RSR Flying Lizard car. Until I get more (and I think that will be soon BTW) I will be trying these wheels on a few other cars. Anyway, not really news, but just some thoughts about these wheels. At about $10.00 for a set of 2 it is money WELL spent.
And, these wheels are made in the USA.
DaveK