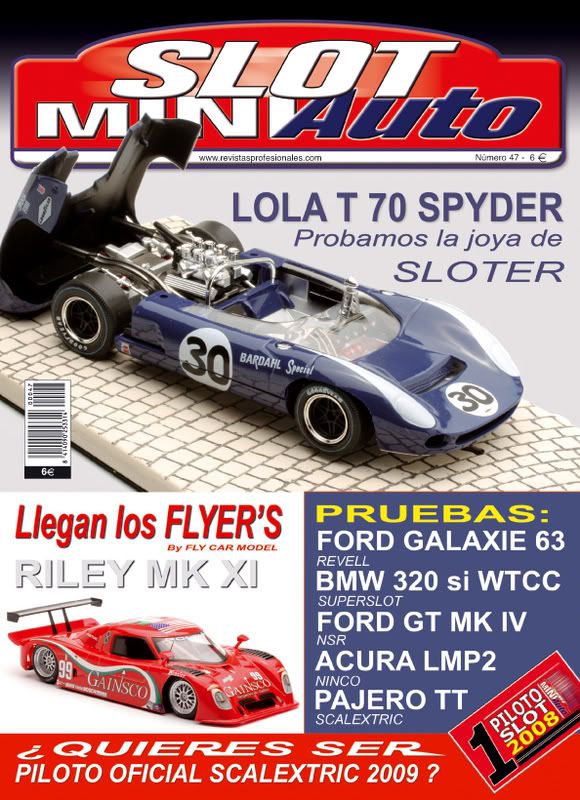 COMUNICADO DE PRENSA
SLOT MINIAUTO 47 - SETIEMBRE
El Lola T70 Spyder, la esperada novedad de Sloter, acapara el protagonismo de la portada del mes de Setiembre. Por otro lado se destaca también la aparición del primer modelo de Flyer's, el Riley MK XI. En el interior se pueden encontrar las pruebas del Ford Galaxie de Revell, BMW 320 SI de Superslot, Ford GT MKIV de NSR, el nuevo Acura LMP2 de Ninco, y el Mitsubishi Pajero TT de la serie Vintage de Scalextric.
PRESS RELEASE
SLOT MINIAUTO 47 – SEPTEMBER
The Lola T70 Spyder, the Sloter expected novelty, steals prominence on the cover of the month of September. On the other hand also highlights the first Flyer's model, the Riley MK XI. In the interior can be found the track test of the Revell Ford Galaxie, BMW 320SI of Scalextric, Ford GT MKIV of NSR, the new Acura LMP2 of Ninco, and the Mitsubishi Pajero TT in the spanish exclusive Vintage series of SCX.
COMUNICATO STAMPA
SLOT MINIAUTO 47 – SETTEMBRE
La Lola T70 Spyder, la novità di Sloter, ruba rilievo sulla copertina del mese di settembre. Dall'altro lato anche la nascita del primo modello della Flyer's, la Riley MK XI. A l'interno si possono trovare prove della Ford Galaxie di Revell, BMW 320SI di Scalextric, Ford GT MKIV di NSR, la nuova Acura LMP2 di Ninco, e la Mitsubishi Pajero TT nella serie Vintage, esclusiva per la spagna, di Scx.