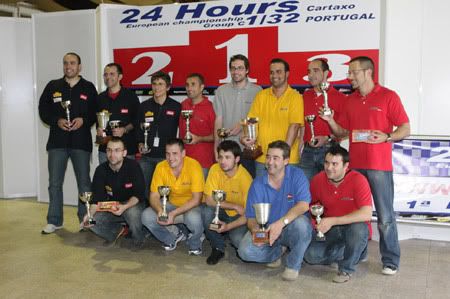 Race finished

- Final standings
24 Hours European
Slot.it
Endurance Championship - Group C
1- Slotmania ES 6764
2- Slotcar-Aloyshop ES 6734
3- Slotmania-Momo ES 6533
4- Cric-Crac Sport ES 6468
5- Asturcantabro - Evotec ES 6452
6- AutoSprintSlot Clube Genova IT 6448
7- MB Slot IT 6418
8- RR Madrid ES 6413
9- RGP Slot Center PT 6365
10- Come il Vento Team IT 6337
11- Madeira Team Slot PT 6319
12- AloyShop al Limit 2 ES 6276
13- AE Slot / Proslotcars.com PT 6252
14- GT Team PT 6221
15- M.L.M. - Mobiliario / Slot Clube do Porto PT 6197
16- GT Team 2 PT 6131
17- ADF Racing IT 6118
18- SCCL Racing PT 6052
19- Azislot PT 5933
20- Slot Arrabida PT 5883
21- Celeiro da Cidade / Mini Auto Slot Team 1 PT 5815
22- Slot Arrabida 2 PT 5810
23- SlotCars-Forum.com PT 5758
24- JP Racing PT 5688
25- Slot Clube PT 1 PT 5650
26- Slot Car Clube Do Algarve PT 5410
27- OM Slot Club PT 5349
28- Motor Classico PT 5209
29- Academia Slot Club PT 5188
30- Celeiro da Cidade / Mini Auto Slot Team 2 PT 4819

Slotmania dominated most of the race but got a fierce opposition by
Slotcar-Aloyshop, the only other team that occupied the first
position during the race. The distance between these two teams was
always small and the battle was huge.
Slotmania-Momo occupied the third place for the entire race. They
didn't have the pace of the first two teams and lost 200 laps for the
leader. However, holding the rest of the pack for 24 hours is
certainly an achievement and the last place of the podium is well deserved.
Cric-Crac Sport raced superbly in the second half of the race and
converted an obscure 18th place at mid-race in a brilliant 4th place
in the end of the race. The fifth place was occupied by Asturcantabro
- Evotec who drove a solid race and were always in the top ten. The
next two teams were Italian with AutoSprintSlot Clube Genova being
the best non-Spanish team ahead of MB Slot who where not able to hold
the fourth position they had at dawn. A final word to RGP Slot
Center, the best Portuguese team and ninth overall. They must be
proud and they deserve it!
Thanks to all the teams for their love of Slot Racing and see you in
Spain in June for the next round of the European Slot.it Endurance
Championship.

Jose Paulo thanks Alex from Slot Portugal for sharing data and photos.