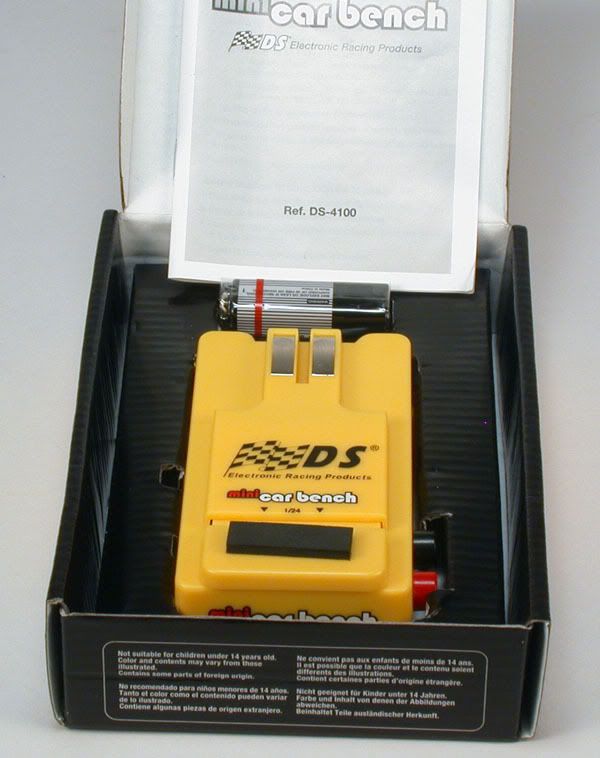 Instructions for the Mini Car Bench from DS:
Thank you for purchasing the Mini Car bench, we hope that the product will be to your satisfaction and you will enjoy its functionality. It is easy for the car bench to break in and adjust your 1/32 or 1/24 Slot car; it is perfect for quickly testing the car or chassis at any place with or without external electrical power.
Specifications:
• Small size to allow support of any 1/32 car, but has self extracting extension will also allow you to use any 1/24 car.
• Contact plates extended to allow an easy external measurement of car consumption or voltage applied.
• Sponge absorbing for car vibrations; do not allow the car to move over the bench.
• Triple power input:
a. Using an external power unit thought the 2 units of 4mm
banana plugs (red and black) fixed at one of the sides to
not disturb.
b. Using the external bipolar jack transformer connection.
c. Using a 9V battery fitted inside the bench.
• External switch allow to save battery when not used.
• External fine and precise voltage regulator from the maximum given in the input to 0.
• On/off LED indicator
How to change the 9V battery:
• Unscrew the 4 under pan screws
• Fix the 9V battery to the free terminal inside.
• For safety reasons we strongly recommend to fix the battery with double side tape.
• Close the under pan using the 4 screws.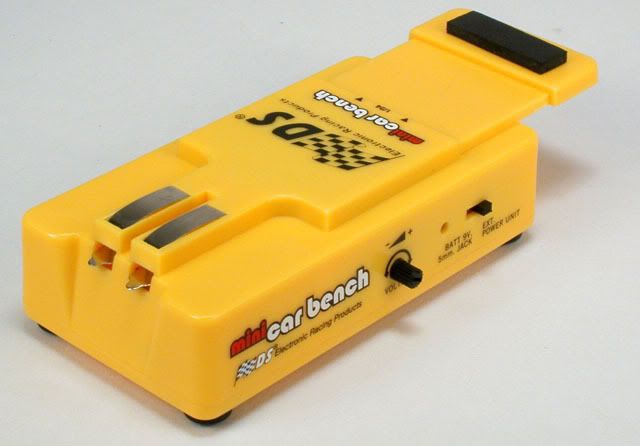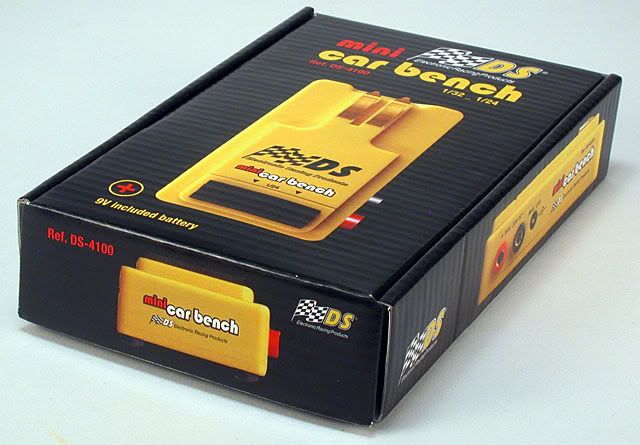 DS is developed and designed in Spain by IBB Auto Racing, S.L.
DS Electronic Racing Products and DS logo is trademark of IBB
Auto Racing, SL
IBB Auto Racing, S.L.
La Masia, 28 · 08710 Odena (Spain)
Tel. +44 938030880
Fax. +44 938055057
www.ibbautoracing.com
DS Electronic Racing Products are distributed worldwide through
MRRC International Hobbies Ltd. Distributors. For international
sales please contact MIH at:
MRRC International Hobbies Limited
PO Box 790
St. Heiler
JE4 0SW - Jersey Islands (Great Britain)
Fax. +44 1 53864988
www.mrrc.com
e-mail: info@mrrc.com