Boss Bodies-dirt modified car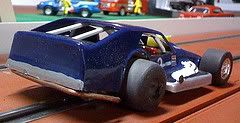 From Boss Bodies:
"We've released a new body that's a little different from what we usually do. This is an asphalt modified which is a direct for the Parma Womp, Champion Thumper, Legends, and Modified chassis. The body is 2.5" wide at its widest point and has a 3" wheelbase. The width makes it very easy to also mount on most plastic 1/32 chassis. If you look at the picture showing the body unpainted, you can see that this is an offset (most body mass to the inside of the turn).

Special thanks to Rick Lugg (paint and build of this model) for making our stuff look great."