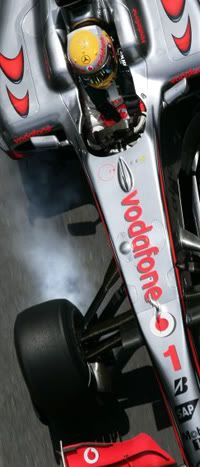 McLaren Mercedes:
Lewis Hamilton
"I love racing in Turkey: it's a real challenge because you need to attack the lap to get a good time, but you also need to be careful with your tyres – if you push too much, particularly through Turn Eight, then your tyres are going to suffer. It's all about finding the perfect balance in practice and being disciplined in the race so you don't overdo it. I also love the fact that it's a new circuit that has really captured the flavour of some of the older, classic tracks – it's got a bit of everything and is fantastic to drive. Also, as it's anti-clockwise, it gives your neck a bit of a workout – but you just need to make sure you've exercised the left side of your neck a little more than usual before getting in the car."
Heikki Kovalainen
"Turkey is all about Turn Eight – the high-speed, four-apex left-hander. On a good day in qualifying, it's flat-out – and that's a pretty good feeling when you get it right. It's also very important to look after your tyres through Turn Eight – you put a lot of load through the tyres, particularly the fronts, so it's a good idea to look after them during the race. The best place to overtake here is into Turn 12, the corner at the end of the back straight. You can get a good tow and slipstream past – with KERS we should hopefully see some exciting racing."
Martin Whitmarsh
Team principal, Vodafone McLaren Mercedes
"The Istanbul Park circuit is one of the most challenging modern circuits – for both teams and drivers. Firstly, it's a real set-up challenge – you need to find a handling balance between the high-speed corners, the slower, infield section and the long straights. In addition, tyre-wear – particularly to the heavily loaded front-right through Turn Eight – is a crucial factor in determining overall strategy. For the drivers, a combination of multi-apex and blind corners adds to the challenge. We go to Turkey in the knowledge that the track characteristics are a bit less likely to suit our package than Monaco, but we are improving all the time, have several minor upgrades for MP4-24 and look forward to assessing our competitiveness against our rivals."
BMW
Sauber:
Munich/Hinwil, 29th May 2009. The work continues and there's no time for licking our wounds. After the disappointing result in Monaco, the BMW Sauber F1 Team will be turning up on the grid for the Turkish Grand Prix with a batch of further developments for the F1.09.
An initial aero update sparked a forward trend at the fifth Grand Prix in Spain, but didn't bear fruit under the specific demands of the Monaco circuit. Meanwhile, the next package of innovations is in place for World Championship race number seven on the modern high- speed track outside the gates of Istanbul. Here the F1.09 will feature a double diffuser for the first time.
Robert Kubica:
"The track in Istanbul is totally different to Monaco. It is a very modern race track with a couple of high-speed corners. The most famous high-speed corner there is the left-hander turn 8. Of course, we hope to perform better in Istanbul than in Monaco."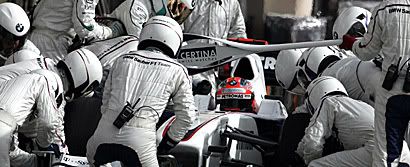 Nick Heidfeld:
"I hope our dismal performance in Monaco proves to be a glitch and that it was down to that particular circuit being unsuitable for our car. After all, there were signs of a forward trend at the previous race in Spain, and the next update is ready for Istanbul – also including a double diffuser.
"The Istanbul circuit has some extremely good sections, particularly turn 8, of course, which is quite a challenge – very long, fast and with several apexes. For the long straight with the right-hand kink you need a good top speed.
"It's a vast city, very international and fascinating. I'll be there on Wednesday already for an event with our partner Intel. I'm staying at a hotel on the European side again and will take a motor scooter to carve my way through the congestion over the bridge to Asia."
Mario Theissen, BMW Motorsport Director:
"Ahead of the Turkish Grand Prix our results are quite sobering. Nobody in the team expected the season to pan out as it has so far. After taking a forward step in Spain, we were clearly off the pace in Monaco. To regain our competitiveness we will have to ramp up our development speed significantly. In Istanbul we will have the next step of our development ready and will be using a multistage diffuser for the first time.
"After three successful years, this phase is our first setback. We can deal with it. After all, it was the same team in Munich and Hinwil that ensured our progressive advancement since the BMW Sauber F1 Team was founded. We are all determined to get ourselves back among the front runners again."
News and photos used with permission from BMW Motorsports and McLaren.com. No reuse of the images or news without permission from those entities.