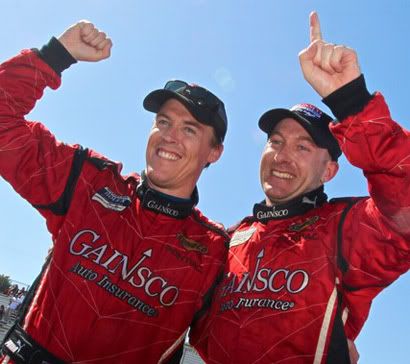 DAYTONA BEACH, Fla. (June 16, 2009)
-- Alex Gurney and Jon Fogarty seek to make Grand-Am Rolex Sports Car Series presented by Crown Royal Cask No. 16 history in Saturday's EMCO Gears Classic at Mid-Ohio Sports Car Course in Lexington, Ohio. The co-drivers of the No. 99 GAINSCO Pontiac Riley are seeking to become the first Rolex Series drivers to win the same class in the same event in three consecutive years.
The 2009 Rolex Series season reaches the midway point when Round 6 takes the green flag at 5 p.m. ET. The race will be televised live on SPEED.
The opening five rounds have seen four different winners in the Daytona Prototype class, with four teams within six points of the lead. Chip Ganassi Racing with Felix Sabates drivers Scott Pruett and Memo Rojas are tied for first with SunTrust Racing's Max Angelelli and Brian Frisselle. Tied for third, six points behind (140-134), are Gurney and Fogarty, along with Penske Racing pilots Romain Dumas and Timo Bernhard. Rolex 24 winners Darren Law and David Donohue of Brumos Porsche are another seven points back with 127 points.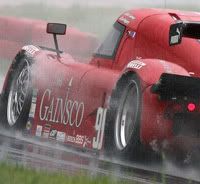 Gurney and Fogarty lead the series with two victories. The pair won the 2007 EMCO Gears Classic, the third of their record seven en route to the championship. Last year the pair scored their lone victory in the rain-soaked Mid-Ohio round. Gurney and Fogarty won both the Virginia International Raceway and Mazda Raceway Laguna Seca races this season, but a 16th-place finish in the Sahlen's Six Hours of The Glen dropped them from the championship lead to a tie for third.
"The points situation coming out of Watkins Glen is not too bleak, so we will head to the next round and give it our all," Fogarty said. "Mid-Ohio is a cool place, and one of our favorites."
Pruett and Rojas, in the No. 01 TELMEX Lexus Riley, scored their first victory of the campaign in the most recent event at Watkins Glen International, moving from a 14-point deficit to a share of the point lead. Pruett is also a former Mid-Ohio victor, winning there on his way to the 2004 series championship.
Angelelli and Frisselle, in the No. 10 SunTrust Ford Dallara, are among the teams seeking their first victory of 2009. The two are coming off three consecutive podium finishes, including seconds at New Jersey Motorsports Park and Watkins Glen.
Defending Winner Keen Shares GT Point Lead
Leh Keen and Dirk Werner, co-drivers of the No. 87 Farnbacher Loles Racing Porsche GT3, won their second race of the season at Watkins Glen to take over the lead in the battle for the Acxiom GT championship. The pair leads Spencer Pumpelly, who has finished sixth or better in every race, by eight points (151-143).
Keen is the defending GT winner of the EMCO Gears Classic. Last year, Keen co-drove with Eric Lux, who will share the team's No. 86 Farnbacher Loles Racing Porsche GT3 with Dominik Farnbacher this weekend.
"We're definitely sitting where we want to be in the points," Keen said. "Having won last year at Mid-Ohio, we've got a wealth of confidence coming into this race. The team is doing outstanding work and I've a heck of a co-driver in Dirk Werner. We're really looking forward to this weekend and Daytona (July 4) after that."
Pumpelly will co-drive with Duncan Ende in the No. 66 AXA/DigiTrust Group Porsche GT3, one of four TRG entries. Rolex 24 winners Andy Lally and Justin Marks will share TRG's No. 67 No Fear Energy Drink/Construct Corp. Porsche GT3.
Defending Rolex Series GT champions Paul Edwards and Kelly Collins return in the No. 07 Banner Racing Pontiac GXP.R. They are third in the points, 11 behind the leader (151-140).
Dempsey Racing, with drivers Joe Foster and Patrick Dempsey in the No. 40 El Grado Tequila Mazda RX-8, backed up four consecutive top-10 finishes with a ninth in the GT2 class at last weekend's 24 Hours of Le Mans. Dempsey finished a career-best seventh at New Jersey Motorsports Park, a result he matched at Watkins Glen.
Practice for the EMCO Gears Classic begins at 9:30 a.m. Friday, with qualifying at 5:10 p.m. Friday. The weekend also includes a pair of Grand-Am KONI Sports Car Challenge races, with a Grand Sport race at 1:45 p.m. Saturday and a Street Tuner event at 1:30 p.m. Sunday. For additional information, visit www.grand-am.com or go to www.twitter.com/RolexSeries for weekend updates.

News used with permission from the Grand American Series.