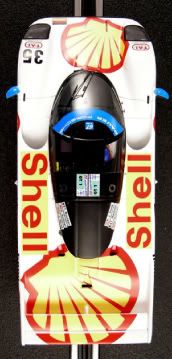 Historique / Historical background :
Réf. / Item number : 132035M
Code barre / barre code : 3700474500422
Based on a model presented at the Frankfort Exhibition by Jochen Dauer, the strategy and development of the Porsche 962 for the 1994 24 hours of Le Mans began with the optimum interpretation of ACO's regulations by Porsche's N. Singer and R. Joest. By ratifying a sport racing car in the GT category, they succeeded in challenging the very nature of endurance racing. Its success was accomplished by many changes made to the original model.
Never had a Porsche 962 been so long (4995 cm) and with such improved engine performance. This was the work of the wizard R. Joest (cooling system, water cooler with a heat exchanger for the engine oil and cooling the gear oil in the heat exchanger). The talent, tenacity and reliability of drivers were also major factors in achieving the victory. However the narrow width of tires (only 14"), the small diameter of wheels, and the heavy weight of the cars created problems with the tires and suspensions that consequently caused them to waste precious seconds at the end of the race, especially for the number 35 car.
The two qualified in the 5th and 7th positions and immediately mounted a challenge to the pole-sitting and favoured Toyota. While car number 35 was soon threatened with problems of tires and suspension, number 36, driven by Dalmas, showed either some doubt about the reliability of the car. In the evening the time required to change its left rear transmission system relegated it to the 6th position, 3 laps down. After 9 hours racing, only 10 seconds separated the Dauer n°35 and the Toyota in front. In the morning while Boutsen won the fastest lap (3'52"54) the transmission suffered and its change caused them to lose 3 laps on the "Fat" as Irvine continued on his march on victory. Then just 98 minutes from the end, the Toyota with Krosnoff, rolled to a stop on the wrong side of the pit wall with the gear in neutral and lost the lead. The two Porsches ran first and second in the closing stages, one lap apart. Nevertheless, on the next to last lap, Irvine passed the German car number 35 at the Ford Chicane and fended off Boutsen's last challenge at the finish line to give the Porsches a first and third place.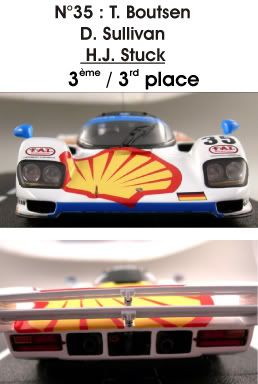 La stratégie de développement de la Porsche 962 des 24 Heures du Mans 1994 basée sur la 962 Jochen Dauer présentée au Salon de Francfort repose sur l'exploitation optimale du règlement A.C.O par Porsche - Norbert Singer et Reinhold Joest. En homologuant une voiture de course en catégorie GT, ils sont sans conteste parvenus à défier toute logique. Mais c'est sur le travail apporté au modèle d'origine que la victoire s'est construite.
Jamais en effet une Porsche 962 n'avait été aussi longue et n'avait eu une telle capacité moteur, résultat du travail du sorcier Reinhold Joest (système de refroidissement de la boîte et du moteur par le circuit général…). Mais il a aussi fallu compter sur la fiabilité et la ténacité des pilotes. Seul bémol au succès de Porsche, la petite largeur des pneus et le petit diamètre des roues ainsi que le poids important de la voiture qui ont sollicité les pneus et les suspensions leur faisant perdre des secondes qui à la fin se sont avérées précieuses notamment pour la n°35.
Les deux voitures qualifiées en 5ème et 7ème positions aux essais menacent dès les premières heures de course les Toyota pourtant favorites. Si la voiture n°35 bute sur quelques sorties de route, des problèmes de pneus et de suspension, dans le même temps on doute de la fiabilité de la « Fat » pilotée par Dalmas. Le changement de sa transmission arrière gauche l'immobilise d'ailleurs en début de soirée et la relègue au 6ème rang à 3 tours des leaders.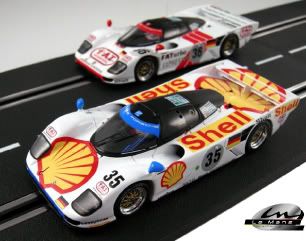 Après 9 heures de course pourtant dix secondes seulement séparent la Dauer n°35 de la Toyota de tête. Mais au matin, alors que Boutsen remporte le record définitif du meilleur tour, la transmission souffre et son changement lui fait perdre 3 tours sur la Fat et la Toyota d'Irvine qui continue a priori sa marche triomphale. A 2 heures de l'arrivée, ironie du sort ou infortune, la Toyota s'arrête devant les tribunes face aux stands commandes de boîte de vitesse bloquées et perd la première place. A l'avant dernier tour pourtant revirement de situation, au virage Ford Irvine passe devant la Shell et vole la deuxième place définitive du classement derrière la Porsche n°36.