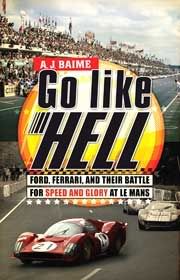 "Go Like Hell"
by AJ Baime
is just a fantastic book.
The book gives an in depth picture of the Ford vs. Ferrari battle for supremacy during the mid 60's LeMans era. Every page of this book gives the reader an ever clearer view of the background of the two giants of sports car racing during what is probably, at least for the slot car fans out there, the most popular era for slot cars. Who out there in slot car land does NOT have a Ford GT or Ferrari 330P3... and if you don't have one you probably want one... at least one.
In the book Baime gives us a view inside the politics of racing and building the iconic cars that made history. But what I personally found more interesting was the VERY good backgrounds of the drivers that are written about in the pages of this book. All the drivers you've heard of and seen on the sides of the cars and mentioned on the message boards. I must admit I didn't know much, if anything about John Surtees... yes... Il Grande John was not someone I knew much about. Sure I knew the name, but to read about him in such detail. To read about an accident that permanently disfigured him, and to read about his comeback to get into the drivers seat for the '66 LeMans only to have a vindictive team leader (Dragoni... appropriate name, eh?) who effectively took him out of the drivers seat before the start of what would be a crowning race for Ford.
And to read about Ken Miles (yes I know, I know.... again, I'd not know much about him either as a driver, someone out there all the older generation of slotters are saying to themselves,"oh god open a book once in a while...") but to read about his tireless work to develop the Ford GT40 from a worthless, useless death trap into a world beater and then to have the race win taken from him by his bosses at Ford in some half-assed attempt to get a "tie" between the top 2 Fords... it's tragic, and I really felt for him.
The book built towards the '66 race. Each chapter building and laying the groundwork for the finale, Carroll Shelby coming from "only" being an American driver to being one of the most important figures in sports car racing. Being given the chance (and the burden) to build maybe the single most important American race cars. From a small shop of hotrodders where there was an informal open-door-policy of letting people wander into the shop and see what they were working on to acres of high security compound to build the cars that would finish 1,2,3 at LeMans.
And then there's the long trail of horrible accidents chronicled in the book. The prologue for the book sets the tone... the infamous accident by the Mercedes 300 SLR piloted by Pierre Levegh is described in gripping detail.
Of course no book about this part of sports car racing history would be complete without an in depth look at the man behind it all...Enzo Ferrari... well, let's just say I'm more of a Porsche fan now than ever and leave it at that.
There's simply something in EVERY chapter that you as a racing fan will find interesting I think. If you don't have this book, you should get this book.
...Go like hell? Yes... read it like hell! When you finish it, you'll want to start all over.
Good job Mr. Baime... good job!

http://golikehellthebook.com/
$26.00
Published by Houghton Mifflin Harcourt
www.hmhbooks.com
Dave Kennedy
Publisher, Slot Car News